How To Make Your Home Canada Day Ready with Maytag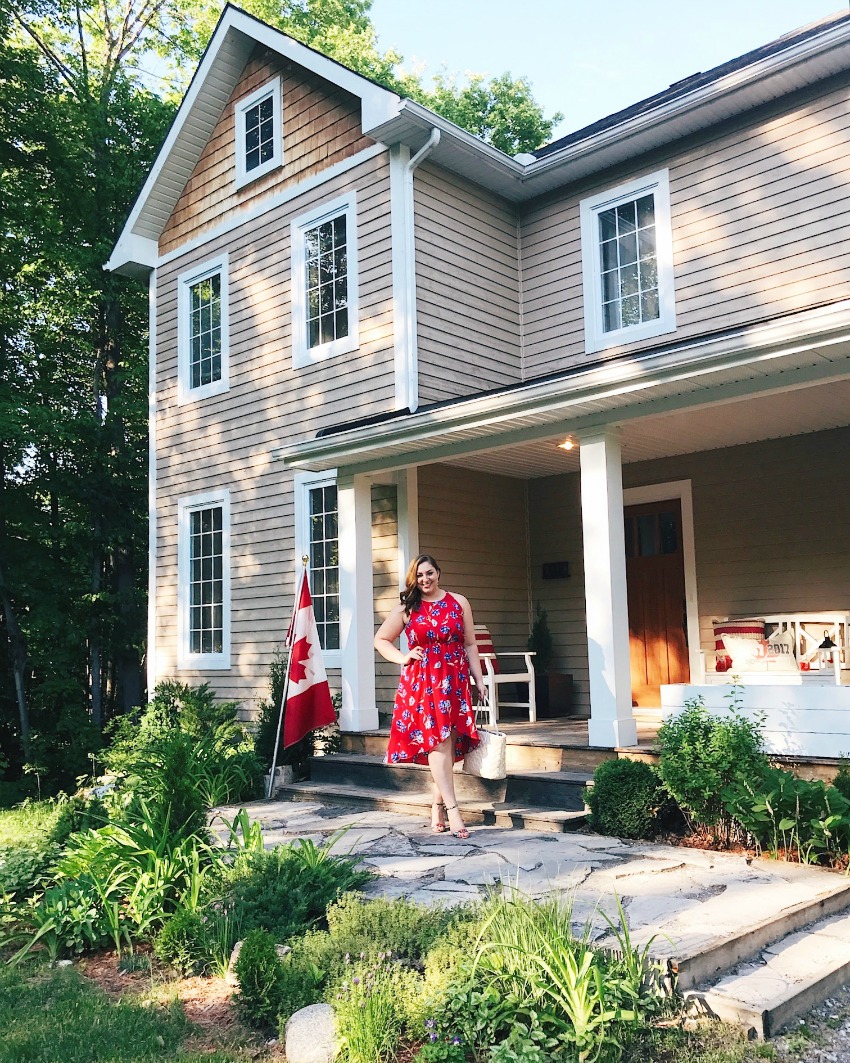 Whirlpool has compensated me for my services and my posts, but all posts represent my own opinion.
The celebration of the year is drawing near. For most of us this means we're planning a major part-eh! In one form or another, backyard barbecues to lavish dinner parties, Canadians from sea to shining sea will be hosting a Canada Day bash like never before, in honour of Canada's 150th anniversary.
Now, maybe you're already the hostess with the mostess. But even the best party planners know there's always room for one more trick up your sleeve! Keep reading, because I've got a few to share with you.
A few weeks ago, I had the distinct honour of being a guest in Canada's Home created by Maytag®. As the big day to celebrate our country's mega birthday fast approached and with our Prime Minister's home in disrepair, Maytag® recognized that Canadians needed a beautiful and dependable home to call its own! With that in mind, they created #CanadasHome and warmly opened up its doors for evening of Canadian dining and entertaining.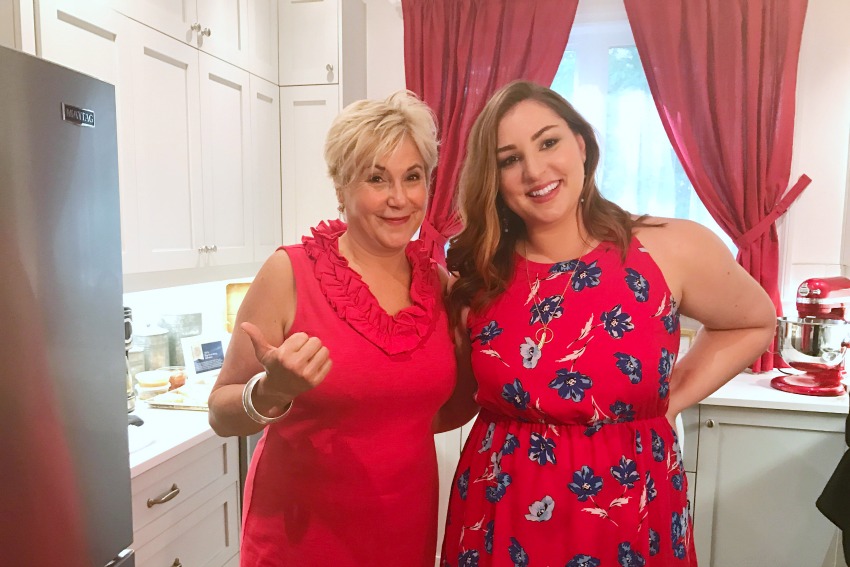 Along with several other lifestyle media personalities and bloggers, I was welcomed with arms wide open, in true Canadian fashion, by special guest and host Cathy Jones. A Canadian actress, comedian and writer – Cathy was the perfect host for the evening. She's a blast to be around and has a wonderful balance of elegance and humour. Before long, it felt more like we were at a lifelong friend's home, sipping Caesars!
Case in point, you wouldn't open up the fridge as a formal guest in someone's home, now would you? But as a good friend? You betcha! And boy did we get right in there, check out how pretty and functional it is. Don't worry, the Maytag® Four-Door Refrigerator comes equipped with PowerCold™ – a feature that chills the refrigerator compartment quickly, even if (and when) your guests have been poking through all the compartments with the door open! Oops.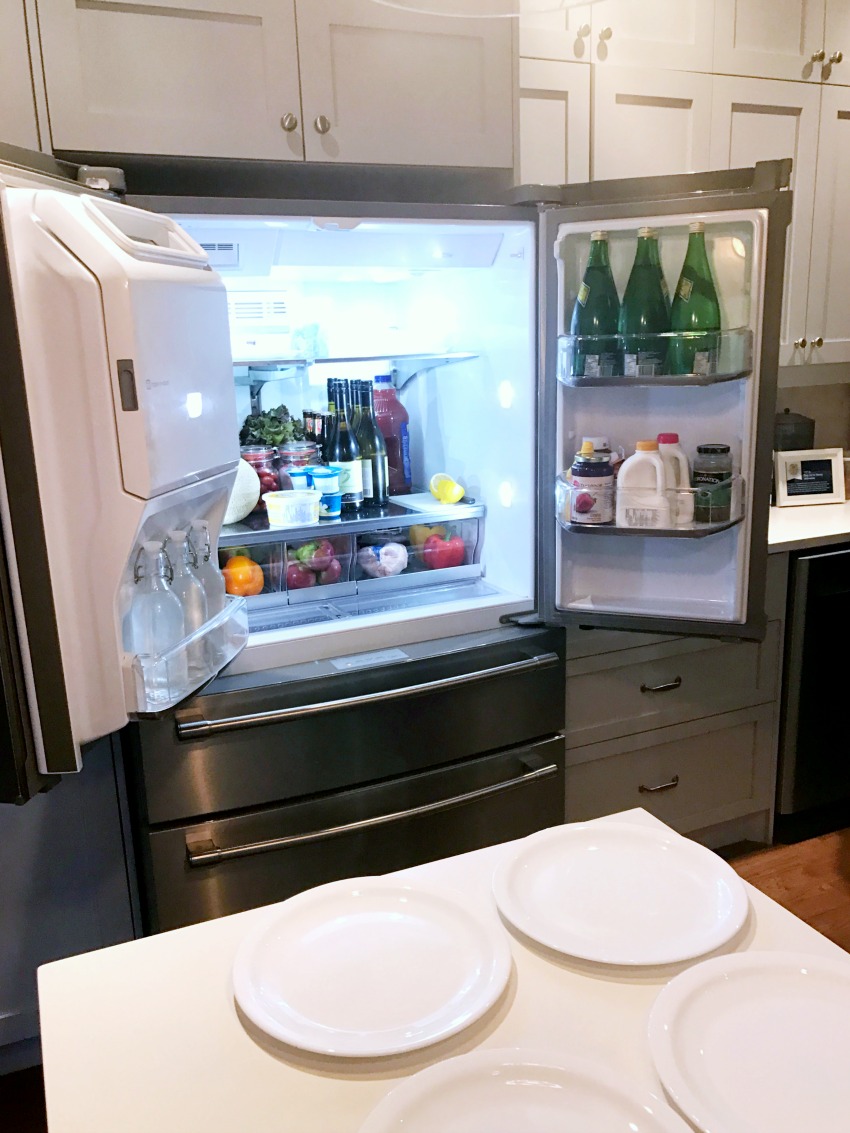 We even got right in the kitchen and rolled up our sleeves, figuratively speaking, and helped cook dinner using the Maytag® Front-Control Range. And by help, I mean watched (I did move the pan once) – but I still got pretty close to the action and learned that the beautiful range we were cooking on comes with Power Preheat, which gets your oven fired up and lets you enjoy dinner faster* Let me tell you, I really wanted to take that beauty back home with me!
Before the end of my marvelous evening in Canada's home, I was equipped with tips and tricks on how to be the ultimate dependable host this Canada Day. As I mentioned above, even though I consider myself a host-in-the-know, I was all too happy for a refresher and some new tips. Of course, I just had to share them with you, because you know I got you, just like Maytag® has got us.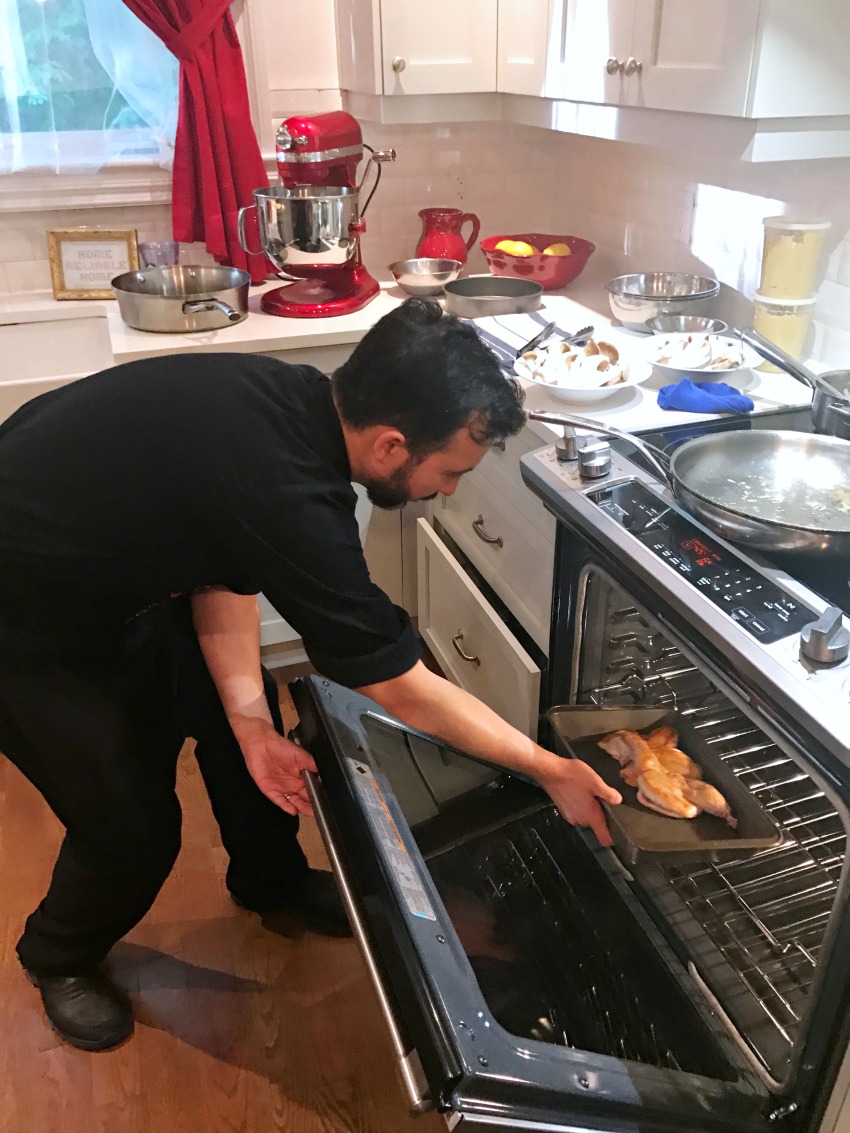 4 Tips To Help You Be The Ultimate Dependable Host Canada Day Weekend:
Tip 1: Have a backup plan
No matter who you're hosting this Canada Day weekend, there's bound to be at least one opinionated guest. Always have a backup meal prepped (even a frozen pizza will do) in case you face last-minute hiccups.
Tip 2: Choose dependable dishes
A dinner party is not the time to take a stab at a new recipe. Stick to your tried and true dishes – like that delicious casserole you've made a thousand times – to avoid dinnertime disappointment and ensure you wow your guests like the dependable host you are. Once your famous lasagna is polished, toss that coated dish in the Maytag® Top Control Pocket Handle Dishwasher with the PowerBlast™ Cycle and let the high pressure spray jets remove stuck-on food and hot steam finish the job.
Tip 3: Be prepared for stains
If it's a fun party, there's bound to be a spill or two! Don't leave it until tomorrow, so the stain can set in – throw that table cloth or guest's shirt in the wash right away. Crisis averted! The Maytag Extra-Large Capacity Top Load Large Washes comes with the PowerWash system which removes everyday tough stains, in a single wash delivering the Best Cleaning in the industry**. After a quick wash, toss your load into the Maytag Extra-Large Capacity Dryer and use Steam Refresh. It relaxes wrinkles by using a fine mist to refresh clothes with steam as they tumble. No ironing? I'm in!
Tip 4: Go for bite-sized appetizers
Receive the popular vote from your party guests with bite-sized appetizers that aren't awkward to eat while they stand with a cocktail in hand and mingle.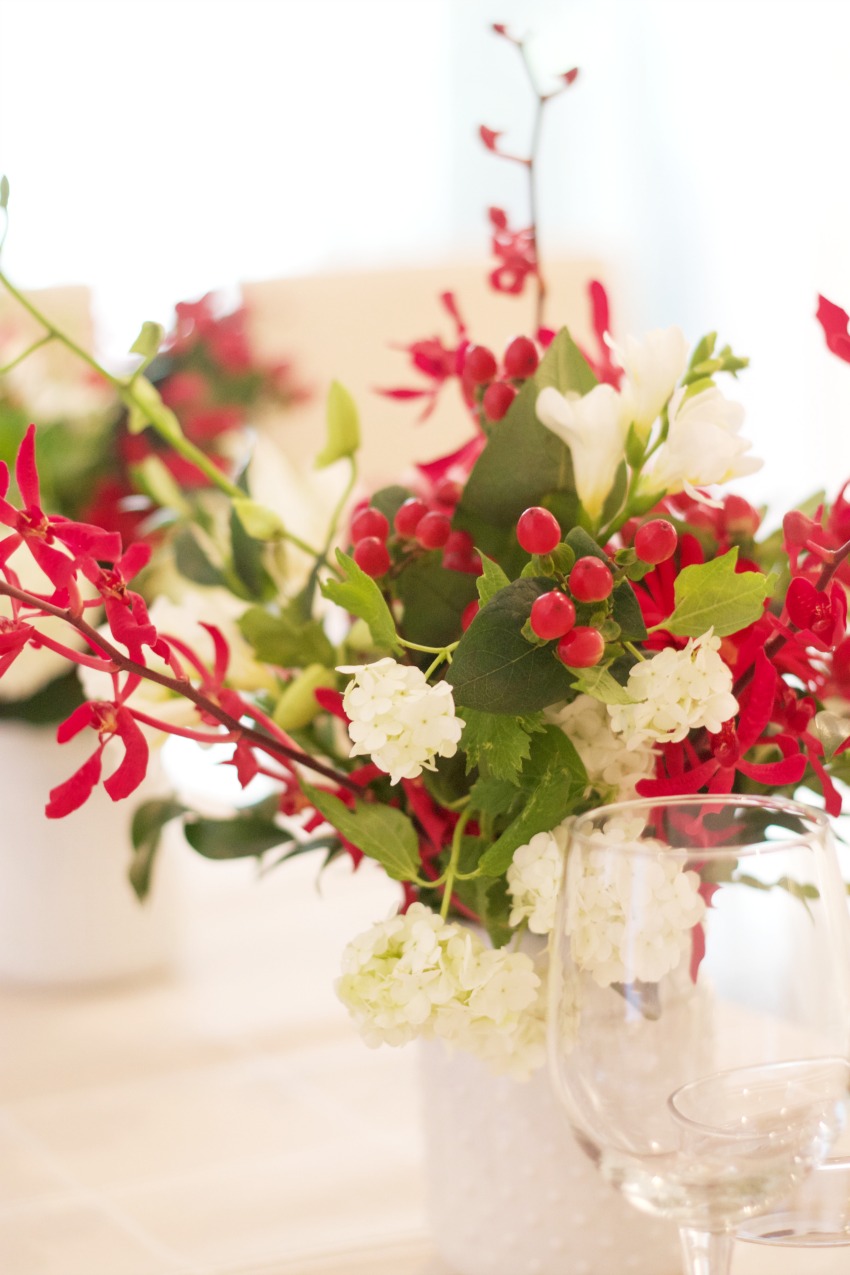 Maytag® offers a wide selection of kitchen appliances for every need. From everyday cooking, to entertaining, they understand that your kitchen is the hub of your home and you like to keep it organized and efficient to focus on cooking delicious meals for your family and entertaining your friends. That's why you can depend on Maytag® for appliances that go above and beyond! Not to mention all Maytag® kitchen appliances in Canada's Home were fingerprint-resistant stainless steel, which in of itself cuts down on cleaning time and keeps your kitchen looking dazzling.
I hope this peek into Canada's Home interior, decor, and dining has offered you inspiration for your Canada Day celebrations, just as much as it has mine.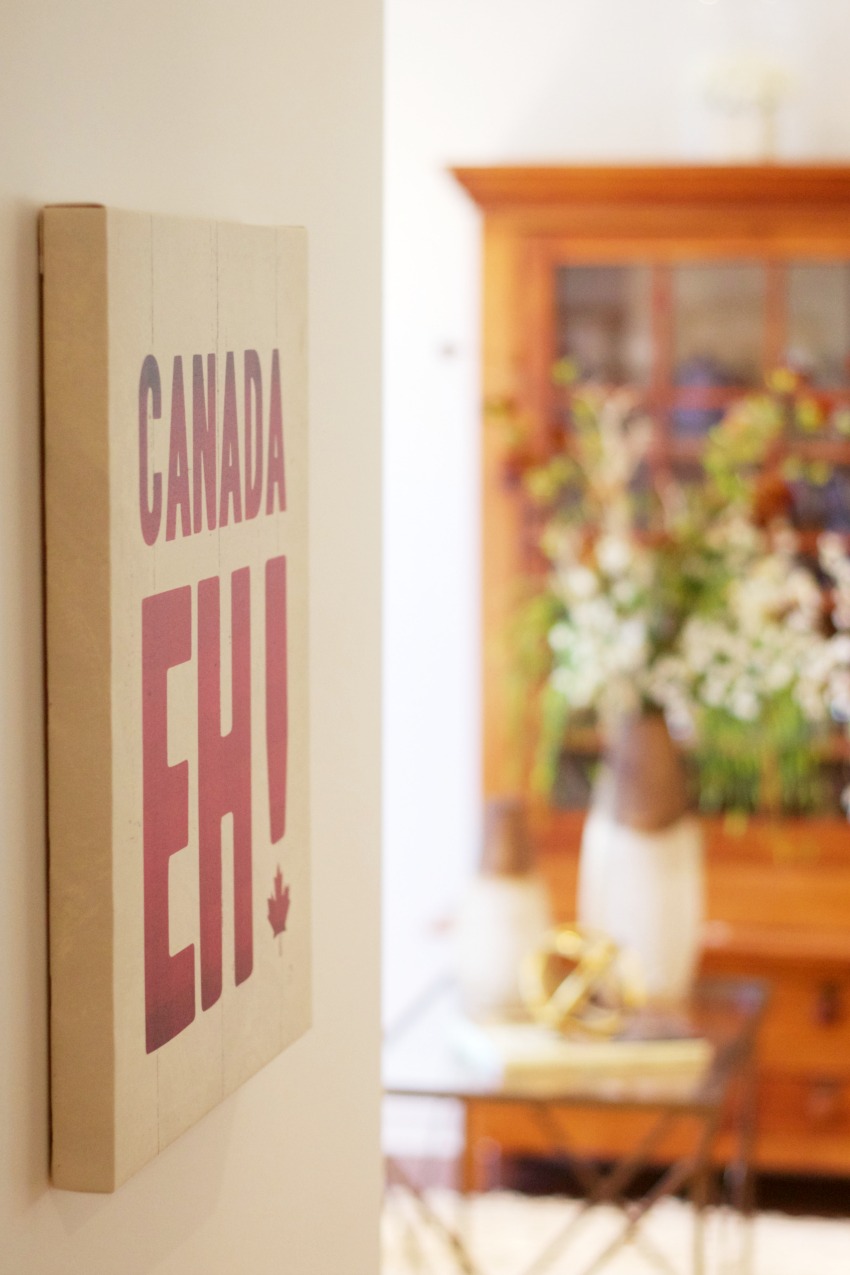 A special thank you to Maytag® and Cathy Jones for hosting such a fabulous Canadian get together and for creating Canada's Home – a dependable home all Canadians can truly be proud of.
Happy 150th Canada!
---
*based on single-rack baking with Power Preheat options versus three-rack baking without option selected.
**Based on 18-lb load, amon leading top brands, PowerWash® cycle vs. comparable cycles and default settings
Latest posts by Emily Smith
(see all)