I Started Running For One Reason and Continued For Another
"Just keep falling forward," my recruit division commander yelled at us as I was running laps in boot camp to prepare for my physical readiness test. When I enlisted in the United States Navy and left for boot camp, I wasn't in shape and I had two months to get ready to run 1.5 miles in less than twelve minutes. It was stressful, but I passed and I learned something very important in boot camp: my body is capable of doing amazing things. This is something I have had to remind myself over and over again, whether I am deadlifting a weight I have never attempted before or swinging a kettlebell for reps, I can do more than I think I can. However, this was a hard lesson I had to learn first with running.
Benefits of Running:
improve your aerobic capacity
increase your endurance/stamina
maintain a healthy weight
maintain a positive self image
decrease stress
I continued to run while in the Navy, not only to maintain the physical standards required of me, but to have a healthy outlet to handle daily stress. I remember being out to sea on deployment and all of a sudden crying on the treadmill, as pent up emotions released. Emotions, I couldn't deal with or talk to my shipmates about. Even in port I loved running on base, one of my best memories was when my shipmate Shawn and I finished a 10 mile run. After the Navy, I ran as a way to help me adjust to being a civilian again and living in a foreign country. To this day my favorite place to run is around Bruce Pit here in Ottawa.
For me, running is not just about the health benefits that can be obtained, it is more about releasing emotions and dealing with stress in a positive way.
I personally feel that the best way to get started running is to strap on a good pair of sneakers, put on some comfortable clothes and head outside and run. However, this is not the best idea if you are not already physically active. Beginning with long walks or using an elliptical machine to condition your body to the demands of running would be a sensible way to begin. Regardless of how you begin, remember to hydrate; drinking plenty of water is paramount for success in any physical activity. If you have any questions about running or suggestions, please feel free to comment here and as always thank you for reading and cheers to your good health!
Where is your favourite place to run? How did you begin running?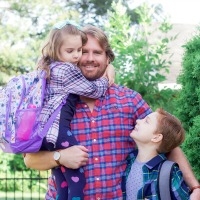 Latest posts by David Smith
(see all)