Beauty Buzz: Create a Fall Skincare Routine with Caudalie Paris
New Season, New Skincare Routine
As the weather cools and the leaves begin to change colour, so does our skin concerns. It's not unusual to notice skin issues flare up during the fall into the winter. With the colder temperatures and use of indoor heat, comes the return of dry skin for many.
Along with dry skin, eczema and rosacea can also make an appearance. Again, mostly due to the change in the climate.
When our skin dries out, it affects the healthy moisture barrier we have and that in turn can also lead to an increase in production of oil and pesky breakouts.
So where does that leave us? Being proactive with your skincare routine and planning for the inevitable shift in your skin's needs will help you and your skin handle the change of seasons gracefully!
First and foremost use a trusted and proven skincare brand, like Caudalie Paris. Founded in Bordeaux (France) in 1995, this French skincare company has been creating effective and raved-about formulas ever since. They strive for "as natural as possible" ingredients and avoid parabens, phthalates, sodium laureth sulfate, mineral oils, and animal by-products. Co-Founder, Mathilde Thomas, committed to developing products that are effective yet eco-friendly and favours natural active ingredients that respect the environment and your skin.
You can find the revered collection online at Beautysense.ca
But before you go shopping for products, you'll want to take the time to identify your skin needs. Take a close look in the mirror. Do you notice any redness? Any dry patches? Clogged pores? Make a note of what some of your concerns are, so you can find the right treatment.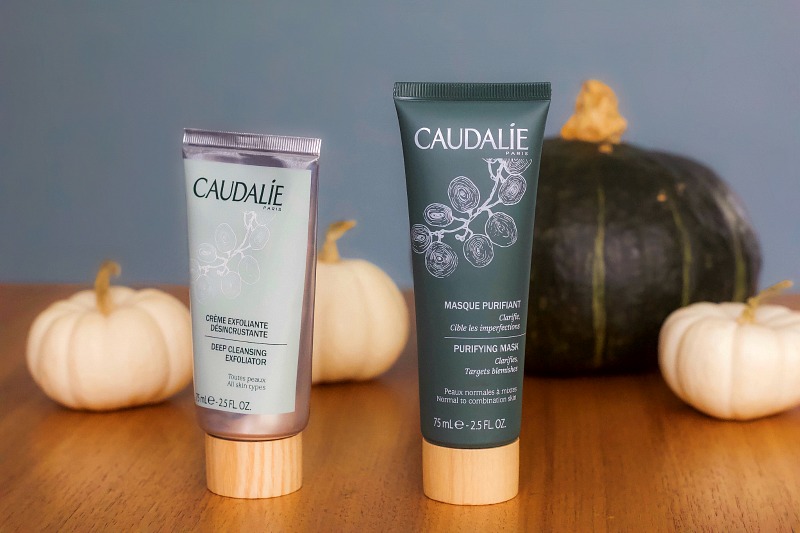 Start with the Basics
Every good skincare routine begins with three basic steps: cleanse, tone, hydrate. From there, you can add-on and rotate specialized products that target specific needs, like anti-ageing or acne.
Since during the fall and winter, our skin tends to be more sensitive and prone to dryness, choosing a mild cleanser, toner and moisturizer is a good starting point. Any additional treatments you can introduce slowly and build up your skin's acceptance.
So let's talk basics! Start with a mild cleanser like Caudalie Vinopure Purifying Gel Cleanser. It gently cleanses and refreshes without drying skin out. Next up, the famous Caudalie Beauty Elixir. This product is well known in the beauty industry for brightening up your complexion! It works to tighten pores, reduce the appearance of fine lines, and gives your skin a nice glow.
Finally, an everyday moisturizer that will keep dry skin at bay, Caudalie Première Vendanges Moisturizing Cream melts into skin and provides deep moisture to hydrate your skin.
With a three-step daily routine in place, it's time to think about including serums, face masks, eye treatments, and exfoliators.
Two of my favourite Caudalie products that I've been using this fall are the Caudalie Deep Cleansing Exfoliator and Caudalie Purifying Mask.
Add in Specific Skincare Treatments
The Caudalie Deep Cleansing Exfoliator, which contains 97% ingredients of natural origin, works to purify skin and smooth its texture without drying it out. This is key when you're dealing with blemishes or clogged pores. You don't want to strip your skin's natural moisture! This product smells amazing and feels so good. It's made with grapefruit, mint and sweet orange – a heavenly combination!
Whenever I get a chance, I treat myself to an at-home pampering session which always involves a face mask. I always share my favourites with you here on the blog and love discovering new ones to add to my rotation. The Caudalie Purifying Mask is perfect for tackling impurities, reducing the appearance of large pores and getting rid of dead skin cells which build upon the skin. It clarifies your skin and helps restore balance with two types of clay. The recommended use is twice weekly for 10 minutes. Pour yourself a hot tea and enjoy the benefits.
While there is so much about the fall season to love, having your skin be out of balance isn't one of them. I encourage you to take a look at your current regime and see if there are any tweaks you can make to take extra care of your skin during the cooler months ahead.
To explore the Caudalie Paris line, visit Beauty Sense online boutique, where you can shop by skin concern, skin type, ingredients, and formulation. Each product has an in-depth description to see exactly what its purpose is and how to use it. I find that incredibly helpful when looking for skincare that targets a specific need!
Here's to beautiful skin this season while enjoying all our favourite fall activities – from apple picking to country fairs and everything in between.
This post is in partnership with Beautysense.ca – As always, all opinions are honest and personal.
Latest posts by Emily Smith
(see all)