Easy Meal Prep Ideas to Make the Best Kids Lunches
This is a sponsored post written by me on behalf of RubbermaidⓇ. All opinions are 100% mine.
What's for lunch? Can I have a snack?
Two things every parent will hear and have to plan for all summer long.
And with back-to-school only two months away, planning for school lunches is just around the corner.
Don't despair, you've got this! With the right tools and some dedicated time to kid-friendly meal prepping, you can make the best kids lunches ever – all year round!
When it comes to planning for kids snacks and lunches, food and meal prep is your friend. Taking a few hours once or twice weekly to prepare for the rest of the days of the week will help make lunches stress-free.
To begin, you've got to have containers that will work for you! I mean it. Clear out all the containers you have that don't match up and/or are missing lids. You can upcycle those as painting and glue pots for craft time.
I've always been a fan of Rubbermaid® containers. Let me tell you, they go the distance. I love TakeAlongs® because they're ideal for storing all your meal prep food, leftovers, and ready-to-go lunches. Their ridge lid ensures secure stacking in the fridge and the pantry, and they come in a variety of sizes too.
Not to mention, they are lightweight and easy to transport, whether you're heading to a picnic this summer or your kids are bringing them in their lunch boxes for school this fall. And while their QuikClik Seal™ lid keeps food secure and helps to prevent any spills, their large tab makes the container easier to grip when opening. Which makes them perfect for kids to use!
I also like them because the bases and lids are BPA-FREE and they are recyclable (Rubbermaid® has partnered with Terracycle for an easy to recycle product program learn more information here: https://www.terracycle.com/en-CA/brigades/rubbermaid-food-storage-en-ca
With top of the line containers, like these, you're ready to jump into easy meal prepping. The keyword here is easy. We're talking about nailing the basics so that making kids lunches and snacks isn't overwhelming. But rather, it's a simple process that even your children can handle.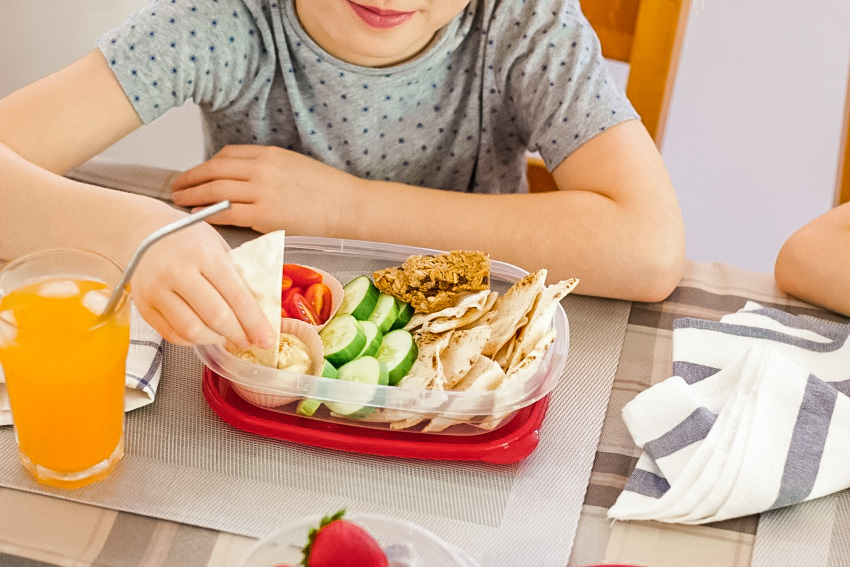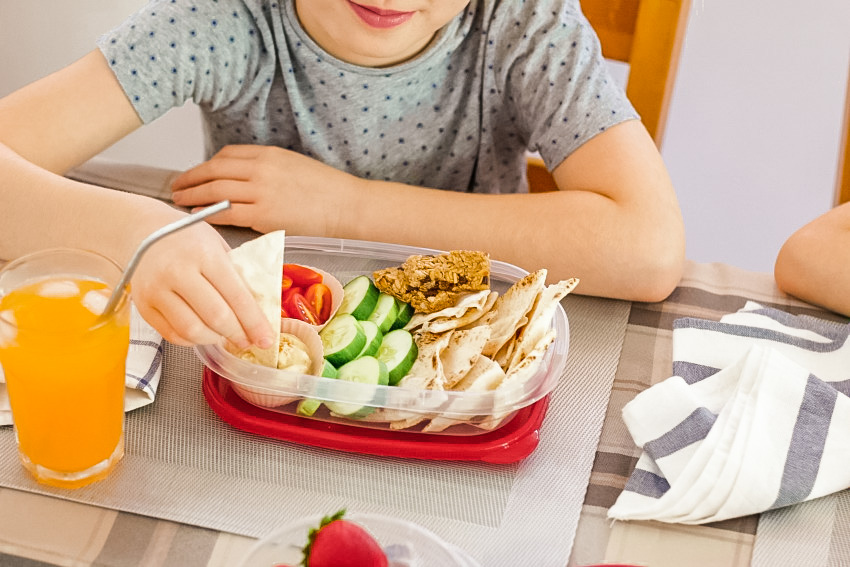 So let's dive into some easy meal prep ideas!
Get organized with reliable containers: as I mentioned above, having a good set of containers is the first place to start when it comes to meal prep. Not only will they keep everything streamlined and organized in your fridge and pantry, but they will also save your sanity. Rubbermaid® TakeAlongs® have a QuikClik Seal™ lid that keeps food secure and helps prevent spills. Because they are clear, it's easy to see what's inside and their tight lid has a strong seal. However, they are easy to open because of the larger tab.
Pick a day to get weekly meal prep done: this is the day you get the bulk of your meal prep done for the week. It can be any day that works for your family's schedule. Even just one hour of dedicated time contributes to alleviating lunch and snack related stress throughout the week.
Prepare hard-boiled eggs for a nutritious snack: now let's talk about food ideas! Hard-boiled eggs are an easy and affordable choice to include in kids' lunches as part of their main meal or a quick, nutritious snack.
Buy applesauce in bulk and create individual portions: my kids go through applesauce like crazy. When you purchase it in a large jar and divide it into portions using smaller reusable containers, it's a no-waste option that saves you money.
Wash berries ahead of time: a quick food prep hack is washing fruits and vegetables ahead of time. However, it's important to store them properly afterwards. When it comes to berries, wash them, pat them dry, and store them in a clear paper towel-lined container. The paper towel will help absorb excess moisture and condensation.
Measure out dried fruit: dried fruit is a wonderful addition to any kid's lunch, but it's important to measure out the portions. For example, ¼ cup of raisins (the recommended serving size) contains 6% of the DV of fibre and 4% of the DV of iron. It also contains around 25 grams of sugar.
Cut pita bread into small triangles: this is a quick lunch prep idea. Cutting up pita bread into small triangles or strips makes them easier for small hands to handle and the perfect size for dipping.
Divide hummus into serving sizes: just like I mentioned with the apple sauce, buying the larger format of hummus and dividing it into serving sizes during your weekly meal prep will end up saving you time, money, and is a good no-waste food lunch choice.
Bake and freeze homemade cookies: to get the most out of a baking session, whip up a double-batch of your favourite cookies and freeze them. Most cookies can be stored in freezer-safe containers, like Rubbermaid® TakeAlongs® for 3-4 weeks.
Soak and chop vegetables: to prepare your vegetables for easy snacking and lunch prep for the week, soak them in water for about 5 minutes, rinse, and dry them off. Store them in a container with a damp paper towel to prevent them from wilting or drying out.
Plan ahead with overnight oats: we love overnight oats for breakfast, but they make an equally delicious lunch. The best part about them is you can make them so many different ways! A good ratio to remember is 1 part oats, 1 part milk, and ⅛ part chia seeds. Then add in whatever you and your kids fancy, like cut-up fruit, additional seeds, and spices.
Make your own snack bites: snack bites are a cinch to make and are a fantastic item to include in kids' lunches. Just like overnight oats, you can customize these little delights in so many ways. Adding different ingredients like dried fruit, sun butter, cocoa powder, fresh fruit, or mini chocolate chips, will keep this snack interesting and fresh for your kids' palates.
Whip up some chicken salad with leftovers: we're always barbecuing chicken throughout the warmer months, which means we often have leftovers that are ideal for making chicken salad. If you plan a chicken dinner the night before your meal prep day, save the leftovers to whip up some chicken salad for easy and delicious lunches.
Make homemade granola bars: just like cookies, you can freeze granola bars too! Homemade granola bars not only taste delicious, but they are also another no-waste snack to include in kids' lunches.
Cut up watermelon into bite-sized cubes: for at-home lunches all throughout the summer, watermelon is one of our family favourites! To make sure we don't forget a juicy melon in the back of our fridge, we often cut it up into cubes that make it easy for the kids to snack on during the day.
Use silicone muffins cups as food dividers: another reusable lunch prep hack! Silicone muffin cups are a quick and easy way to create your own bento boxes from regular containers. Place them within a Rubbermaid® TakeAlongs® and fill them out with an assortment of foods like cheese cubes, veggies, fruits, crackers, and dip.
Get creative with sliced olives: as a good source of healthy fats and vitamin E, olives are an awesome addition to kids lunches. While there isn't much prep work that needs to be done here, they are perfect to add the finishing touches to sandwiches, wraps, bento boxes, etc. If you want to get creative, you and your kids can use them to decorate halved hard-boiled eggs or sandwiches with cute little faces.
Make your own juice and/or infused water: if you have a juicer at home, using fresh fruits and vegetables to make your own juice is not only fun, it's healthy! One of our family favourites is carrot-apple juice, which keeps fresh for 2 days in the fridge. We also like to make infused water with strawberries, mint leaves, cucumber, lime and other fresh fruits and herbs. You can portion out servings in reusable bottles to enjoy at home or at school.
Put a lunch checklist on your fridge: a quick printout of a balanced lunch list can encourage and help kids make and pack their own lunches. For example, your checklist could include the following: 1 drink, 1 bento box or sandwich, 1 fruit serving, 1 vegetable serving, 1 whole-grain snack (like oatmeal cookies, snack bites, or granola bar).
Make "create your own pizza" containers: most kids love pizza, hot or cold, so why not fill a lunch container with the ingredients to make their own pizza. You could use E nglish muffins or pita bread, grated cheese, sauce, pepperoni slices, olives, and green pepper.
Create designated space in your fridge for prepped lunch and snack foods: one of the key factors about this whole operation is a saved spot or two in your fridge for all your hard work. Keep your meal prep food organized on one shelf with stackable containers. I love Rubbermaid® TakeAlongs® to get the job done!
I know you've got a busy schedule and maybe the thought of adding something to your plate, like meal prep, feels like another commitment. But I encourage you to carve some time out and give it a try. The goal here is to take something off your plate: the mental load of kids lunches and snacks.
With the assistance of some awesome containers, like Rubbermaid® TakeAlongs® that are microwave, dishwasher and freezer safe, you can knock meal prep out of the park!
RubbermaidⓇ at Walmart Canada.
And don't forget to ask your kids to help you! Together, with an investment of 1-2 hours a week, you can create a streamlined routine to make simple, healthy kids lunches this summer into the new school year!
Latest posts by Emily Smith
(see all)