How to Survive a Canadian Winter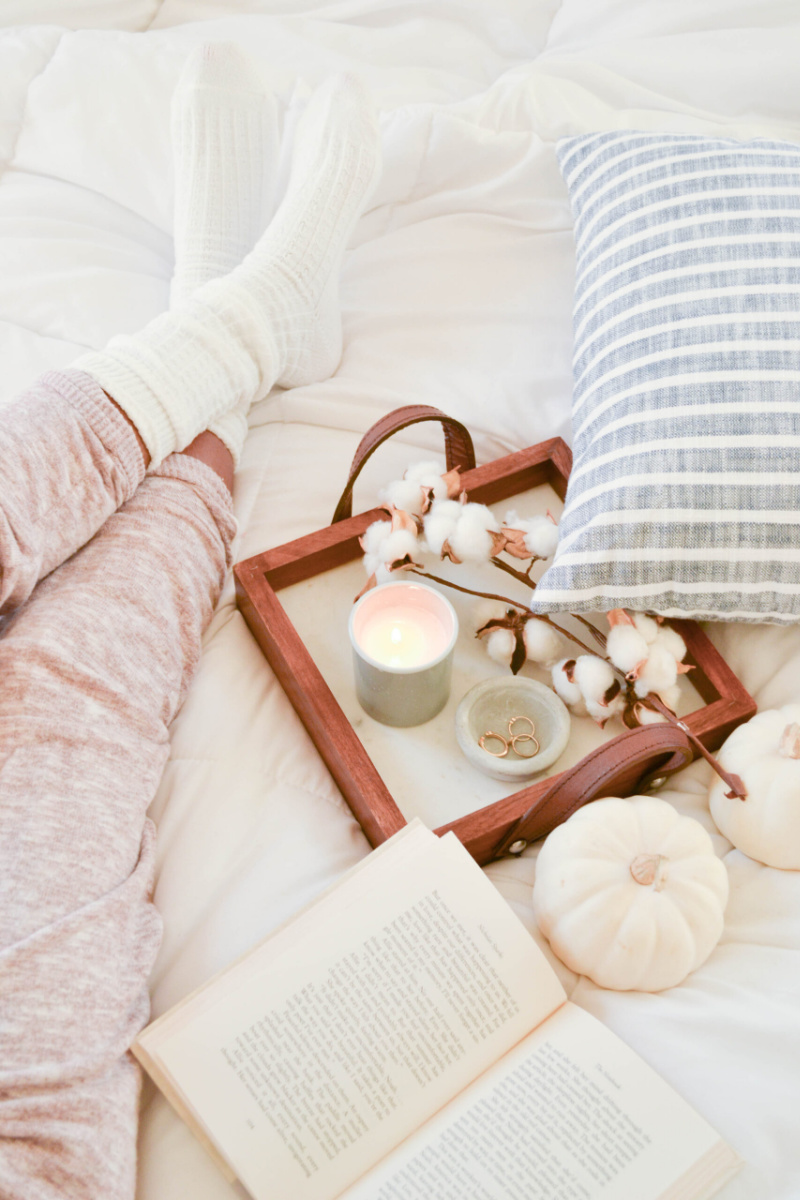 Canada is such a wonderful place to live. There are many things about my country that bring me joy, especially during the holiday season!
We almost always have a fresh blanket of white snow, which makes it extremely picturesque. I love seeing my neighbours hang up decorations, watching the snowfall from my living room window, and drinking hot cocoa with my kids.
As much as I love the holiday season here in Ontario, a few days into the new year, it hits me. 
It's SO cold here in Canada. I mean, SO COLD. And the winters in Canada are SO LONG.
For someone like me that doesn't love the cold weather, it can be tough to survive our Canadian winter. But I don't want to stay in bed the entire season either. So, I have to rely on ways to survive the winter, the freezing temperatures, and the shorter days. 
Below are some of my tips to help you get through the winter months ahead.
13 Ways to Survive a Canadian Winter
Stock up on warm sweaters – whether you're lounging around the house or layering up to head outside, a few quality, cozy sweaters will come in handy. The key is to look for natural fibres like wool and cotton that are warm yet breathable.
Keep a supply of hot drinks – a pantry full of different teas, a variety of hot cocoas (white hot chocolate is so good ), and a selection of coffee beans is a must for surviving a Canadian winter.
Fall in love with an outdoor activity – from snowshoeing to ice skating; there are fun winter activities to pursue to help enjoy this season! When you find a winter activity you connect with, you're more likely to bundle up and spend some time outside.
Collect cozy throw blankets – coziness is key to handling the winter. When it comes to throws, the softer, the better; I have them in every room of our home. Anyone can grab one at any time to feel warmer and more comfortable.
Create a winter reading list – make sure to ask Santa for some books this year! Getting lost in a good read is a perfect activity for cold, snowy days.   
Get into baking and cooking at home – even if you go overboard with Christmas cookies, baking throughout the winter can be a tasty adventure you can get lost in on freezing winter days. Bake and cook nourishing, comfort food like whole-grain loaves, vegetable stew, and hearty casseroles.
Invest in good winter gear – a hooded parka is a necessity! Same goes for insulated boots, warm mittens, thick scarves, and a hat that covers your ears.
Try your hand at crafting – it's a slower pace during the winter months, which makes it an ideal time to learn a new craft like knitting, decoupage, or drawing. For weekends that are just too cold to head outside, a project at home will keep you busy and entertained.
Get fresh air and take walks – get bundled up in all your winter gear, and go for a walk. The brisk cool air can be just the thing to clear your mind. Even just for 10 minutes, if that's all you can stand of the cold. And don't forget to recover with a nice cup of cocoa when you get back inside! 
Don't forget your winter tires – seriously! If you're driving in snowy parts of Canada this winter, you need winter tires. They make a difference and can help prevent collisions. Plus, insurance companies in the province of Ontario give discounts to drivers who use winter tires!
Explore meditation – there is a deep quiet to Canadian winters, making it an excellent time to try meditation. Find a quiet place, get cozy, and focus on your breathing. Meditation at any level will help decompress feelings inside and may help you focus better throughout the day. 
Decorate your home with candles – the glow of candlelight is not only easy on the eyes, it adds warmth to every room.
Find new things that make you joyful – we are all different people, with hobbies and interests that bring us happiness. Winter blues is a real thing, so don't forget to do all the small things that bring you joy. From playing video games to reading a thrilling mystery, find the things that make you smile, and make them a priority all winter long.
There are certain things and activities made for Canadian winters (hot cocoa, down jackets, Beaver Tails), and leaning on them will help you get through the cold winter months ahead. 
Courage! You got this.
Latest posts by Emily Smith
(see all)