Sugar-Free Peanut Butter and Jelly Smoothie
Did you like peanut butter and jelly sandwiches when you were growing up? I can't say that I remember having them very often, I was more of a peanut butter-banana sandwich girl, myself. But as an adult, I've enjoyed all natural peanut butter over gluten-free grain toast topped with homemade jelly or freshly smashed raspberries – and I can tell you, there really is something to it.
I decided to give this smoothie a whirl, simply because I was missing enough ingredients to make a full family batch of berry smoothies. However, I remembered that I had been wanting to try this combo for a while, and well – it just so happened to be the day for it. Problem solved and plenty of smoothie to go around!
BERRY GRAPE JELLY: frozen mixed berries + frozen purple grapes + unsweetened almond milk + cinnamon
PEANUT BUTTER: crunchy natural peanut butter + frozen bananas + unsweetened cashew milk
The rich grape/berry flavour against the thick nutty taste of peanut butter, all swirled into a delicious ice-cold glass of smoothie goodness, well folks I've just got to say – it's good. It's refreshing, satisfying, and a total treat! Obviously my four-year old was flipping out over his G-I-A-N-T peanut butter and jelly smoothie, which was like ice cream to him (and us).
In my humble smoothie-opinion, it rocks. It's up there with the best. It tastes phenomenal after a workout and boy does it fill your belly with all the right stuff.
Give it a go and let me know what you think!
Print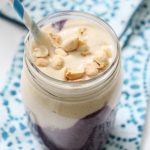 Sugar-Free Peanut Butter & Jelly Smoothie
---
Description
A healthy, delicious way to enjoy a childhood classic: peanut butter & jelly in a smoothie!
---
Berry-Grape Jelly Smoothie
1 1/2 cups

frozen mixed berries

1 cup

frozen purple grapes

1 1/2 cups

unsweetened almond milk

1/2 tsp

cinnamon
Peanut Butter Smoothie
1/3 cup

natural crunchy peanut butter

2

frozen ripe bananas

1 1/2 cups

of unsweetened cashew milk

6

ice cubes
Optional
Natural peanuts (unsalted and unsweetened)
---
Instructions
Place all ingredients for the "jelly" smoothie into the blender. Blend on high until smooth. If you need to add a bit more liquid to get the right consistency, you can.
Serve into 4 medium glasses in equal parts.
Rinse the blender from any remaining smoothie.
Place all ingredients for the "peanut butter" smoothie into the blender. Blend on high until smooth. It should be nice and thick.
Slowly pour into the 4 glasses in equal parts.
Swirl with a straw to create a top swirl, if you wish. Top with peanuts and enjoy!
Notes
I used almond milk in the first smoothie, because it's a bit more watery than cashew milk. Cashew milk or coconut milk are thicker and richer, working well for the peanut butter smoothie.
You might also enjoy these smoothie recipes:
Strawberry Cheesecake Smoothie
Almond Cluster Chocolate Goodness Blizzard
Latest posts by Emily Smith
(see all)