5 Simple and Healthy Strawberry Smoothie Recipes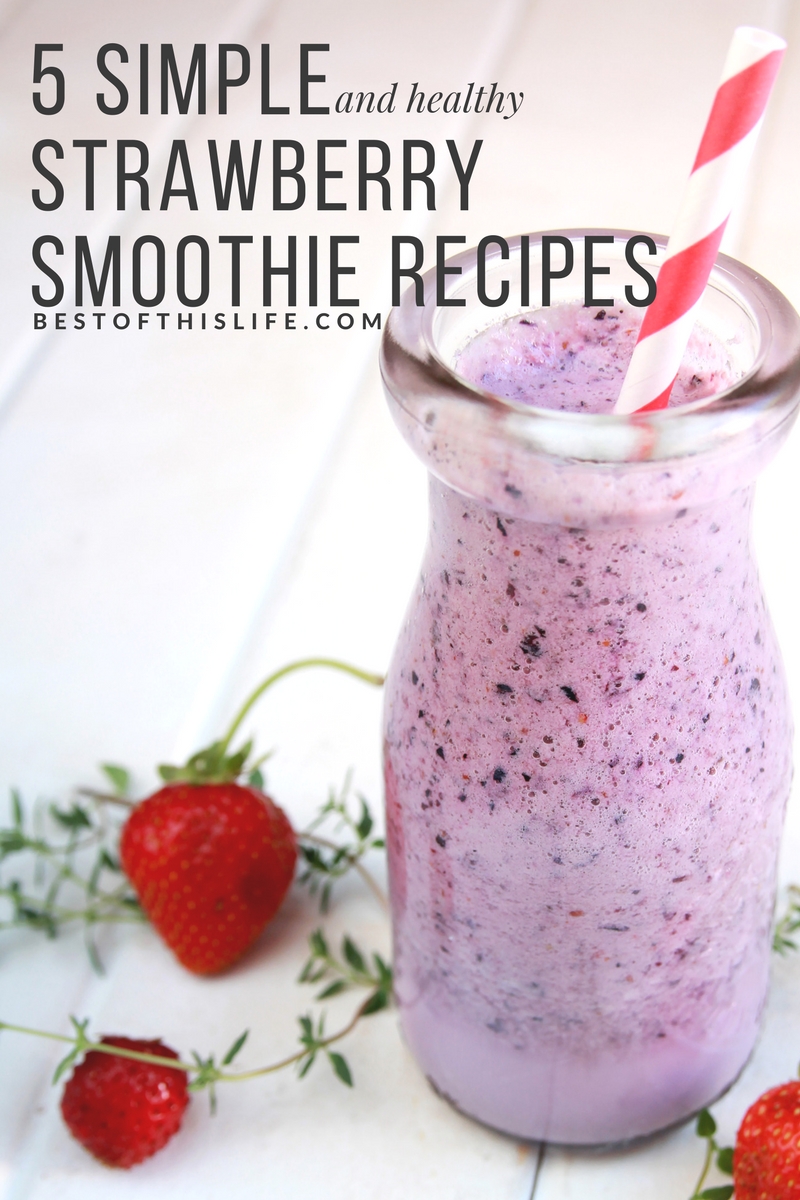 When one thinks of summer fruit, strawberries most likely come to mind (at least for me they do!). Sweet, juicy, not to mention beautiful to look at, strawberries find their way into many of my family's meals during the warmer summer months. With their host of antioxidants, high vitamin C, and minerals like magnesium and potassium, strawberries are just as healthy as they are pleasing to the eye. They reduce the body's inflammation, which helps alleviate gastrointestinal issues as well as joint pain and arthritis, lower blood pressure, combat heart disease, and can even promote eye health. So if anyone questions why you've been eating so many strawberries, just recite these facts and they'll have no further argument! I mean, you should see me when we go berry-picking, I've got strawberry juice all over my hands and lips. I can't help it!
Even though we slow things down during the summer months, we're still quite on-the go with activities with my two children, family outings, and my regular work load. Which means I gravitate toward quick meals on busier days —and this is where strawberry smoothies come in. They are a welcomed family breakfast, snack and dessert all summer long! There are dozens of recipes to choose from, each as delicious as the last, but the five below are my go-to options in a pinch:
5 Simple and Healthy Strawberry Smoothie Recipes
1. The Best of This Life's Sweet Peach and Strawberry Smoothie
The perfect choice if you're craving something sweet but don't want to heat up the kitchen, this peach and strawberry smoothie gets its tropical feel from pineapple nectar, and is especially refreshing if you freeze the peaches beforehand!
2. Little Vienna's Healthy Strawberry Smoothie
Sometimes you don't mess with perfection. This simplest-of-the-simple strawberry smoothie is dairy-free, and you can add a dash of honey if you're craving a bit more sweetness.
3. Two Peas and Their Pod's Easy Strawberry Mango Smoothie
This extra-thick smoothie will give you island vibes with its call for mango and Greek yogurt.
4. Gimme Some Oven's Strawberry Banana Smoothie
The classic strawberry and banana smoothie—does it get more summery than this? There's lots of flexibility with this recipe, which can be dairy-free, and a splash of vanilla extract brings out the other flavors!
5. A Latte Food's Dark Chocolate Strawberry Smoothie
It might sound indulgent, but this smoothie still manages to stay healthy; cocoa powder provides the chocolatey taste, with mini chips to garnish.
Bookmark this page for easy reference the next time you're in the mood for a smoothie!
The Best of This Life: Established in 2011 and helping readers live their healthiest, happiest, best life since!
Latest posts by Emily Smith
(see all)