My Grandmother's Date Square Recipe
This post has been compensated by Collective Bias, Inc. and its advertiser. All opinions are mine alone.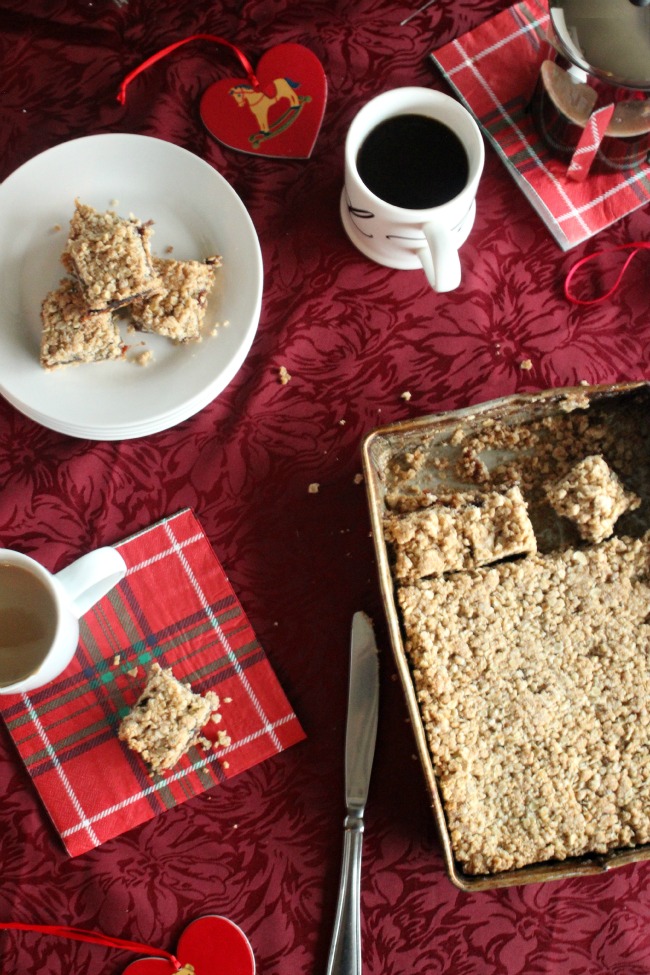 Christmastime is about family, togetherness and tradition, and though they may transform over the years, the feelings of joy and contentment surrounding the holidays never change. I feel so lucky to have grown up with comforting family traditions that have been easily translatable to my current family and friends, while still honouring the individual who put them in place—my beloved grandmother.
As a child and into my teenage years, my grandmother's home was our gathering place every holiday season. Christmas Eve meant midnight Mass, and while I enjoyed the candles, the beauty and the message in those pews, I couldn't stop my mouth from watering as I dreamt of the pan of warm, sweet date squares that would be waiting for us on my grandmother's countertop afterwards. A plethora of other French Canadian baked goods would line the space, and the entire family would sit oohing and ahhing at my grandmother's treats into the early morning hours, waiting to open presents together for the réveillon.
To keep the tradition going, we make her date square recipe every year and enjoy them with our favourite specialty coffees from Starbucks.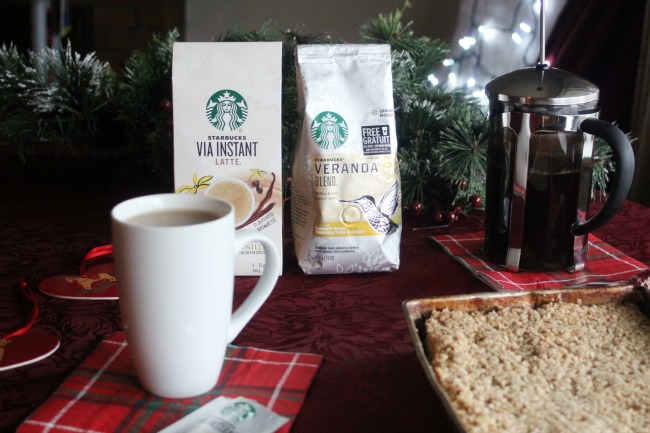 Ten years ago my grandmother passed away, and my mother continued our family's tradition of making those hearty, delectable date squares during the holidays. I also began to make them for my own children, a son of five and a daughter of two, in honor of my grandmother—they may've never gotten to meet one another, but it was important to me that my children knew what kind of woman my grandmother was through her food. As we decorate the Christmas tree every year and enjoy her date squares with a steaming cup of specialty coffee like Starbucks' Veranda Blend or Via Instant Latte, I know that the memory of my grandmother is there with us, smiling at our enjoyment of her recipes as we carry on the spirit of Christmas.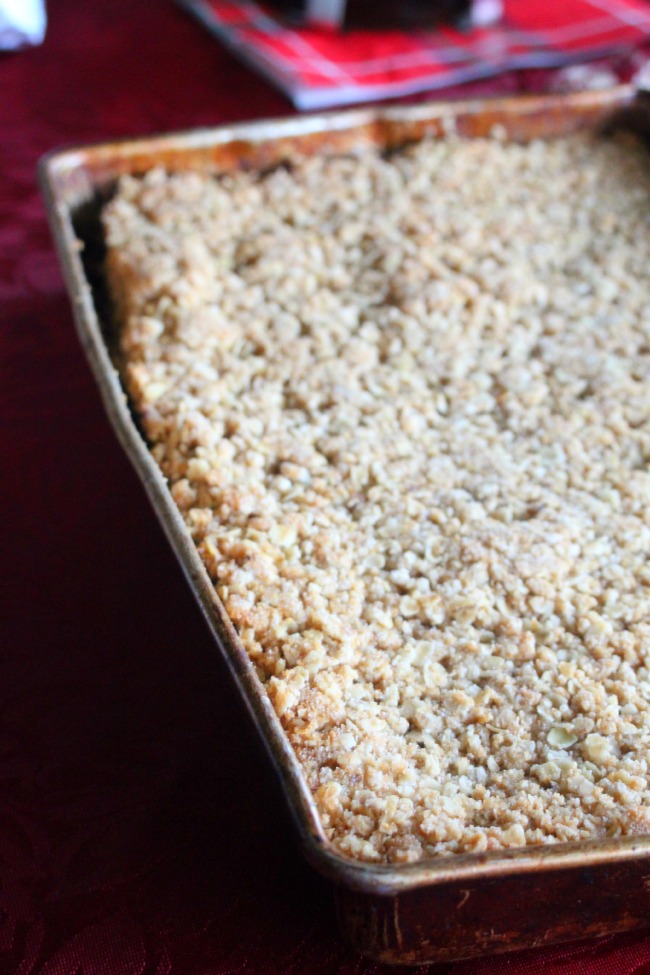 My kids love pulling our their favourite decorations and enjoying a few tasty date squares! Our family recipe is below and updated to be gluten-free, but still just as yummy as always.
Print
Grandmother's Date Squares (gluten-free)
---
1

pound dates (

500g

)

1 cup

of water

1 cup

of Bob's Red Mill sweet white rice flour

2 cup

quick cooking oats

1 cup

brown sugar

¼ tsp

salt

½ tsp

b. soda

1 tsp

b. powder

1 cup

soft almost melted Tenderflake shortening
---
Instructions
Cook dates on low for 7 to 10 minutes watching closely and stirring often. Let cool for 15 minutes.
Mix salt and soda (no lumps) flour, oats, brown sugar really well. Gradually add shortening and work with a wooden spoon creating a crumble with small to medium pea size lumps.
Spread half the crumble in the bottom of a lightly greased 11" x 9" pan. Starting in one corner of the pan very gently spoon the date mixture on top evenly. Next add the remaining crumble mixture one tablespoon at a time gently covering the dates.
Bake at 325 F for 25-30 minutes. Let cool completely before cutting in square.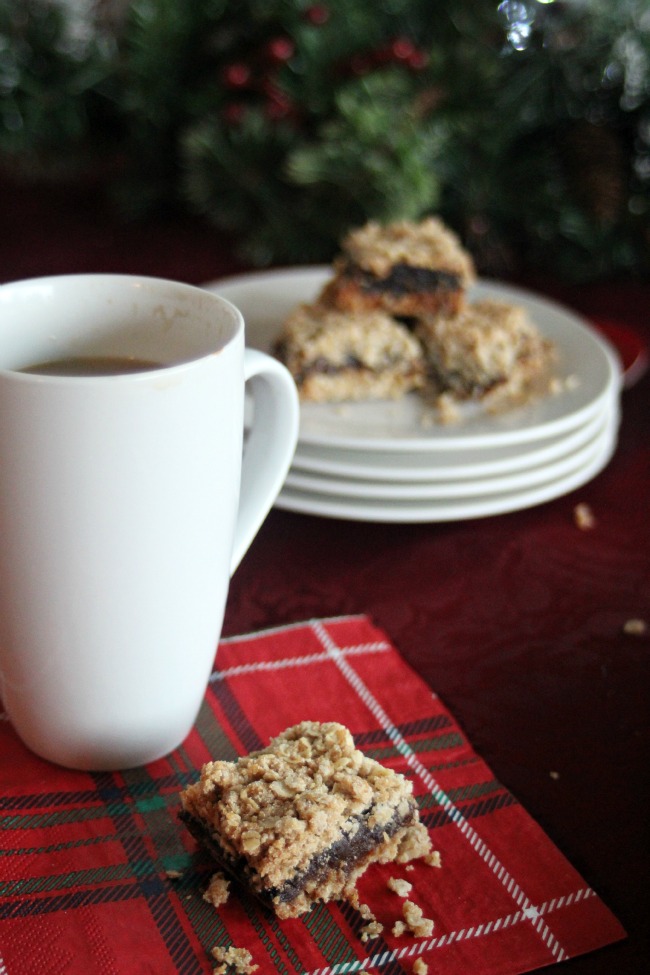 Other important recipes that have been passed down in my family include my Children's Favorite M&M Cookies and Classic Shortbread Cookies, both of which are made with a special The Best of this Life twist: they're gluten-free! Both recipes are perfect for decorating with Christmas-coloured candy or sprinkles, and though we no longer have lots of extended family in the area, Christmastime in our home is full of fun, friends, holiday baking and even a specialty coffee bar we set up with Starbucks favorites like their chestnut praline syrup and salted caramel hot cocoa mix for all to enjoy!
 Merry Christmas from The Best of this Life's home to yours…I sincerely hope that it's one full of happiness, health, holiday baking, beloved tradition and maybe even some delicious date squares!
Latest posts by Emily Smith
(see all)