Purposeful Living: An Interview with Alyssa Beltempo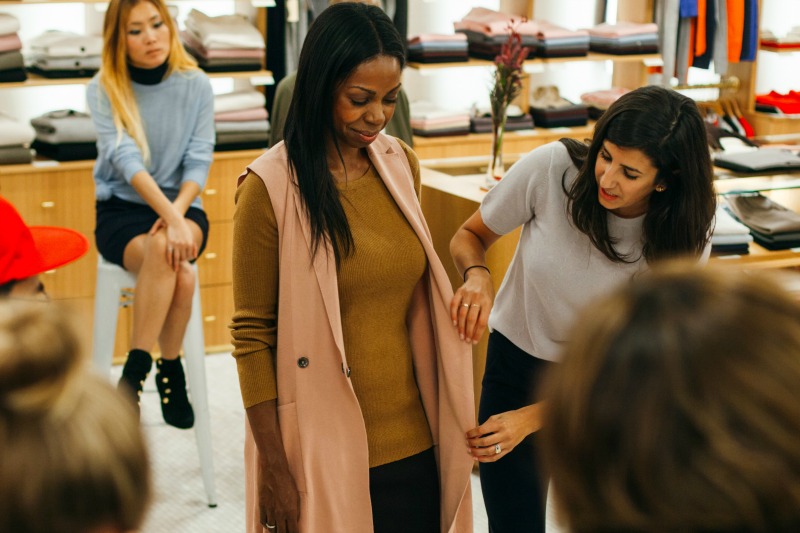 I've had the pleasure of connecting with Alyssa Beltempo several times over the past few years through Ottawa and Toronto fashion events. She's a warm, kind, and unassuming individual. One might think of stylists, especially in reference to fashion magazines and celebrities, as being unrelatable – but that couldn't be further from the truth when it comes to Alyssa. She's an it-girl with a down to earth personality, which is always a refreshing combination to come by.
It just so happens that she has many admirable qualities, including her consciousness about fashion's impact on the environment as well our collective social responsibilities as consumers. This is a topic she explores, discusses, and provides how to's and tips for on her blog, Ms. Beltempo. As a sustainable style blogger and stylist whose motto is buy less, choose well, Alyssa is navigating the waters of eco-fashion in a sea of fast-fashion. She gives her readers much needed tools to transition from over consumption into slow living and slow fashion, while meeting their desire to be stylish and on-trend. Her blog, with each new post, is becoming quite the resource guide for those seeking to adopt a more sustainable and conscious fashion ethic.
In one of her latest articles, Tricks to Keep Your Clothes & Wardrobe Looking Fresh, Alyssa offers four very simple and doable steps to keeping clothing looking its best (so you don't wear them thin and dispose of them unnecessarily). This is just the sort of relatable advice that readers can actually implement, and I absolutely love that! In another post, Create a Travel Capsule Wardrobe with These 12 Items, Alyssa suggests using travel as an opportunity to test drive a minimalist lifestyle and includes a list of practical and fashionable pieces one can take on their next vacation and just how to maximize their wear. I thoroughly appreciated that piece, because I'm always at a loss for what to pack.
Today, Alyssa is answering my questions for The Best of this Life's Purposeful Living Series – and sharing a few lessons and tips along the way…
---
First off, let's get to know you better!
I feel most inspired when…I'm running or listening to music – most often together!
On most days, I'm wearing…Jeans and a sweater or button down, and brogues or sneakers
My favourite place to spend time outdoors is…It really depends! I love a bustling city, but failing that, any beachside (ocean or sea!) is such a treat.
One of my favourite inspirational quotes is…Hmmm I have several that seem to rotate depending on where I'm at in life … a consistent one is "All we have to decide is what to do with the time that is given us." ― J.R.R. Tolkien, The Fellowship of the Ring (yes, I'm a huge nerd). I also turn over this one in my head a lot: "Logic will take you from A to Z but imagination will take you everywhere" by Albert Einstein.
When I'm feeling down and out and need to change my mindset, I…Go for a run or call my mom.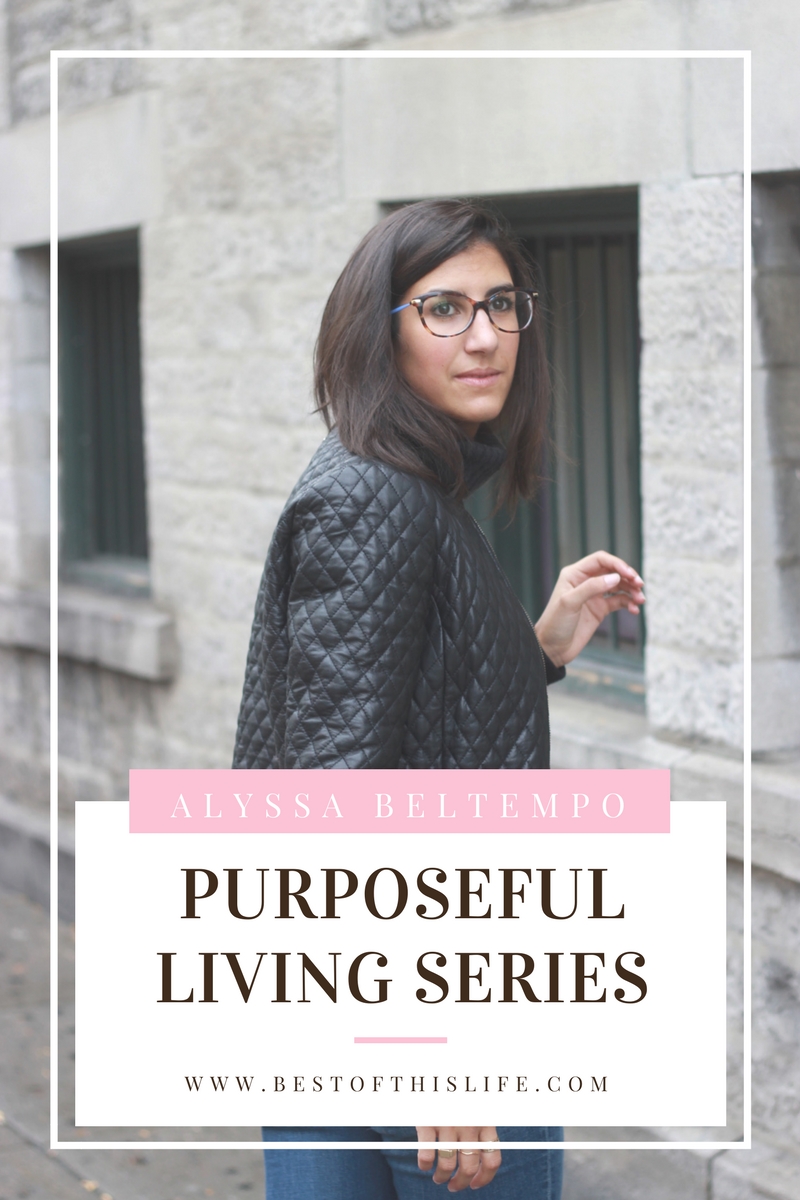 Now let's get right to it, what does purposeful living mean to you?
What a great question – purposeful living to me means putting your best skills and talents to good use to serve others – in both a career and personal aspect. I think a lot of people do things because they have to, but it's important to feed and grow your strengths and natural skills and talents – whether as a hobby or career. I think humans need to feel like they're contributing in some way.
When it comes to work, what are you most passionate about?
More recently, I've become passionate about spreading the message of doing more with less from a clothing and fashion perspective. I think over-consumption is a toxic habit that is stressing everybody out – slow fashion, slow life – that's what I'm passionate about.
How do you find joy in each day, even the tough ones?
Tough days suck. But at the end of it, if I can walk, run, and use my mind and body without any issues (ie; I'm healthy), and the people I love are safe and healthy, then honestly there is nothing better than being grateful for this. I worry incessantly so bringing my thoughts back to this is really important.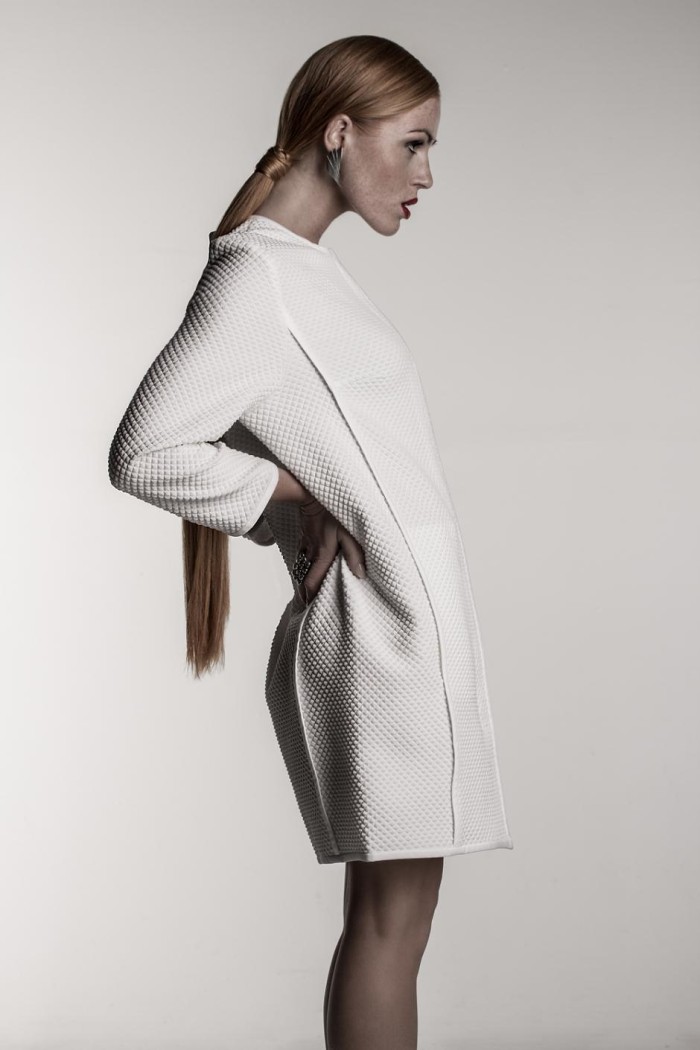 How does a successful day look to you?
Hmmm this is a tough one because it depends on what my goals were for that day. If I manage to achieve what I set out to do in the morning, then I would say it was pretty successful. Sometimes that can mean a great workout and crossing work-related tasks off my list. Other days it could mean spending time with my parents and husband and get some chores done. It really depends!
How do you get out of your comfort zone?
As much as I worry and overthink, when it comes to big life decisions or new endeavours, I tend to go with my gut – if a scary opportunity arises, I don't analyse, make a list of pros & cons, or anything that would cause me to actually think about it. I let it sit in the back of my head for a few days or weeks (depending on how long I have), and then I just go with it or not. I trust my subconscious to do the work. It's like before you're about to go for a long run on a cold, rainy day – it will be uncomfortable, but the longer you think about it the more your brain will talk you out of it – you've just got to follow the motions and go. Get out of your head. In the end, you're always happy you did.
What is one tip you can share with us for building genuine connections and relationships in your industry?
Hmmm this is a tough one because I'm an introvert, so I'm not great at building connections the traditional way via networking events or parties. I've found meeting people for one on one coffees or project ideas is a great way to foster a genuine relationship. It allows you to focus your energy properly on one person.
What is one of the biggest lesson you've learnt since starting your blog/business?
Stop being so nice and ask for what you're worth. I'm still learning this one.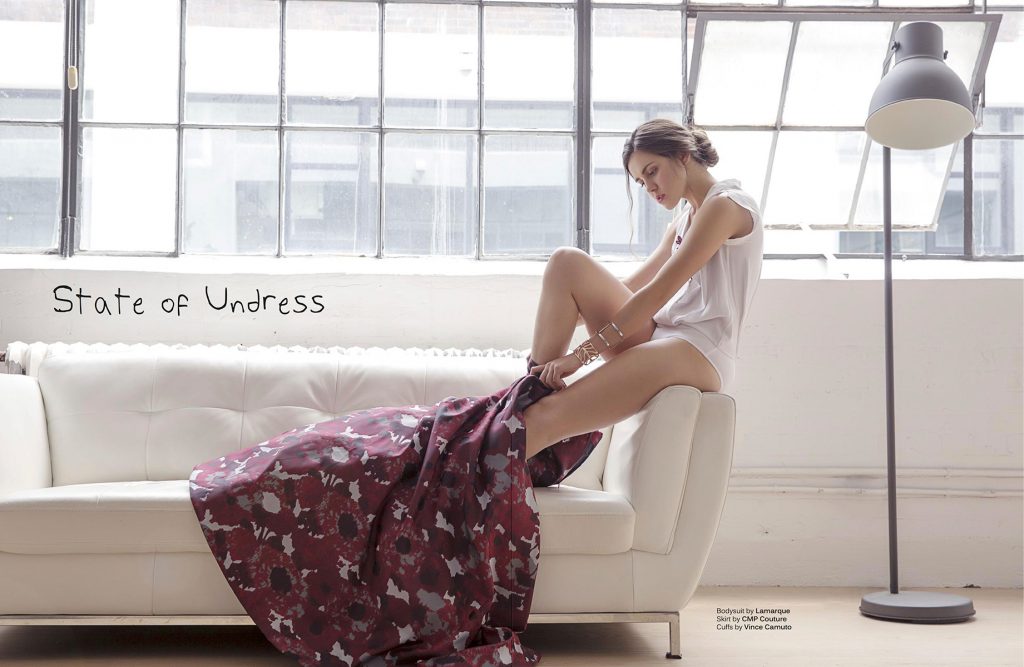 What is one thing you do often that contributes to living a purposeful and fulfilling life?
I say no to things that I don't think will either help me grow, make me happy, or help other people learn how to do more with less. Saying no more often has allowed me to focus on what's important to me – both personally and career-wise, which ultimately means I have time to do the things which make me feel more fulfilled and happy.
What words of encouragement would you give to someone who is just starting out or struggling with their blog/business?
Don't be a yes-man. You have every right to be choosy about your content and projects you take on.
We all have dreams and goals, would you mind sharing a few of yours with us?
My dreams and goals revolve around traveling more, taking on more speaking projects, learning more about sustainability so I can share it!
One last thing…what has been one of the best pieces of advice you've ever received/read?
Ride the wave. 🙂
---
Thank you Alyssa for taking the time to share your answers for this series. There were a few times, I was nodding my head as I was reading, thinking, yes, yes, yes. And I'm sure I'm not the only one. Especially when she talked about saying no to things that will neither help you grow nor make you happy. This has been key for me to learn, and am still learning the great importance of saying no and how disregarding that intuition leads to unrest and stress. Such a great reminder for us all to stay connected with that inner voice that leads the way and not feel badly asking ourselves the question, "Does this really make me happy?". And that same question certainly applies to shopping… when we pause and look at the pile of whatever we're buying and ask ourselves, will this really make me happy, it is often the first step in reducing one's over-consumption, because more often that not, the answer is no.
I'd love to hear your thoughts, please share them in the comments and let Alyssa know what you enjoyed most about her interview.
*Photo details & credit for first image: In-store Slow Fashion Presentation by Alyssa Beltempo at Ca Va de Soi: Photographer: Temitopé Owolabi Featuring Dominique Baker at Style Domination
Latest posts by Emily Smith
(see all)