You Can Make Healthy Apple Chips Right in the Toaster Oven!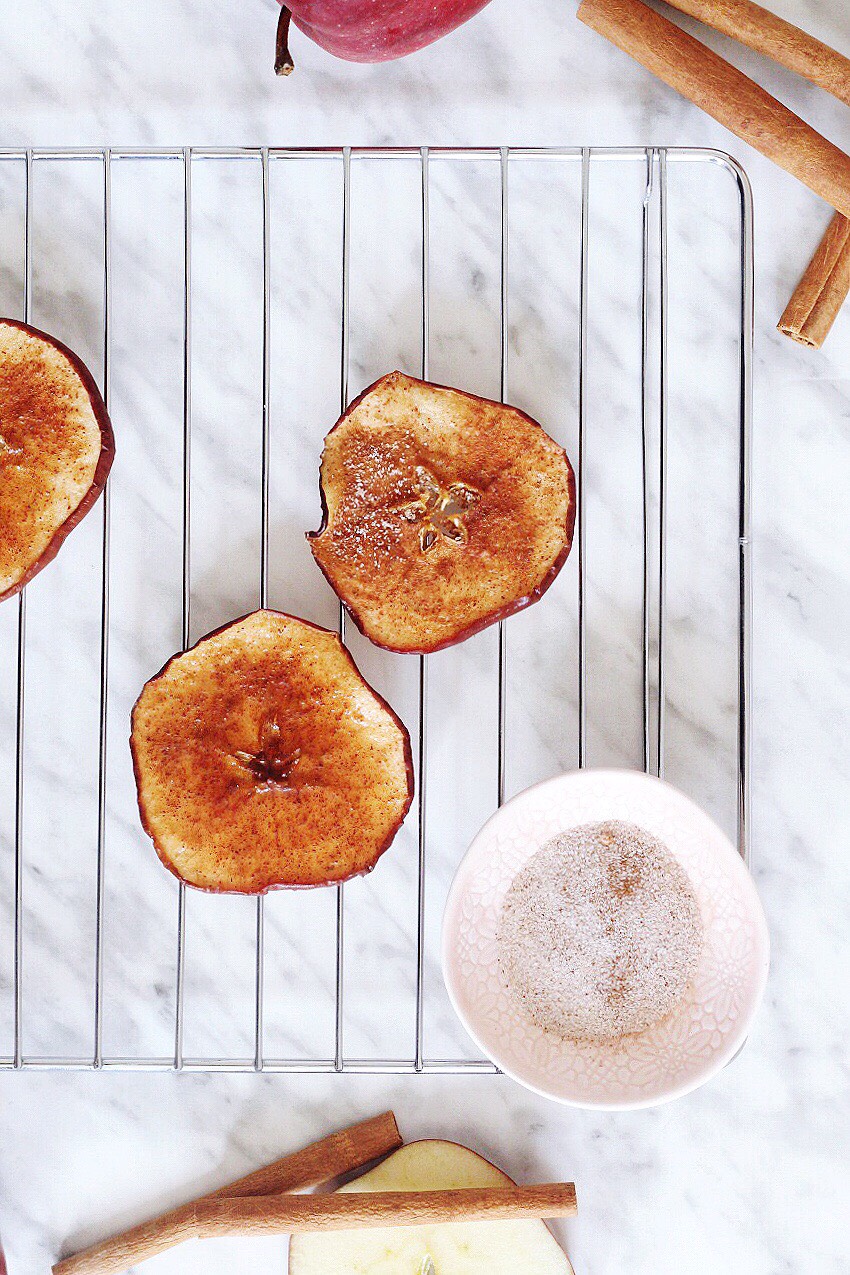 This post is proudly presented in partnership with Hamilton Beach Canada, as always all opinions are personal. Emily is a 2017-2018 Hamilton Beach Canada Ambassador.
Getting Creative In The Kitchen
One of the daily realities of family life is planning for meals and snacks. It's an ongoing, everyday thing on the to-do list. Whether you prepare ahead with meal prep at the beginning of the week or fly by the seat of your pants each day, you still need ideas and inspiration!
If you're like me, you enjoy trying new recipes in the kitchen. Not only because of the joy of discovering something delicious but also because sometimes you just get tired of the same old.
A goal of mine here on The Best of this Life is to provide you with fresh inspiration to get creative when it comes to cooking and baking, without being overwhelmed. Life is busy, and we don't all have time to shop for a lengthy ingredient list to then spend hours in the kitchen, so simplicity and functionality are key – and not just when it comes to the recipe itself, but also the tools we have at our disposal.
That's where my Hamilton Beach 2-in-1 Oven and Toaster comes in. Without ever turning on my conventional oven, I can cook up some scrumptious, wholesome recipes for my family and I to enjoy, in no time at all. There are tons of obvious choices for foods you can prepare in a toaster oven, like toast (of course!), pizza, sandwiches – but those are just the beginning.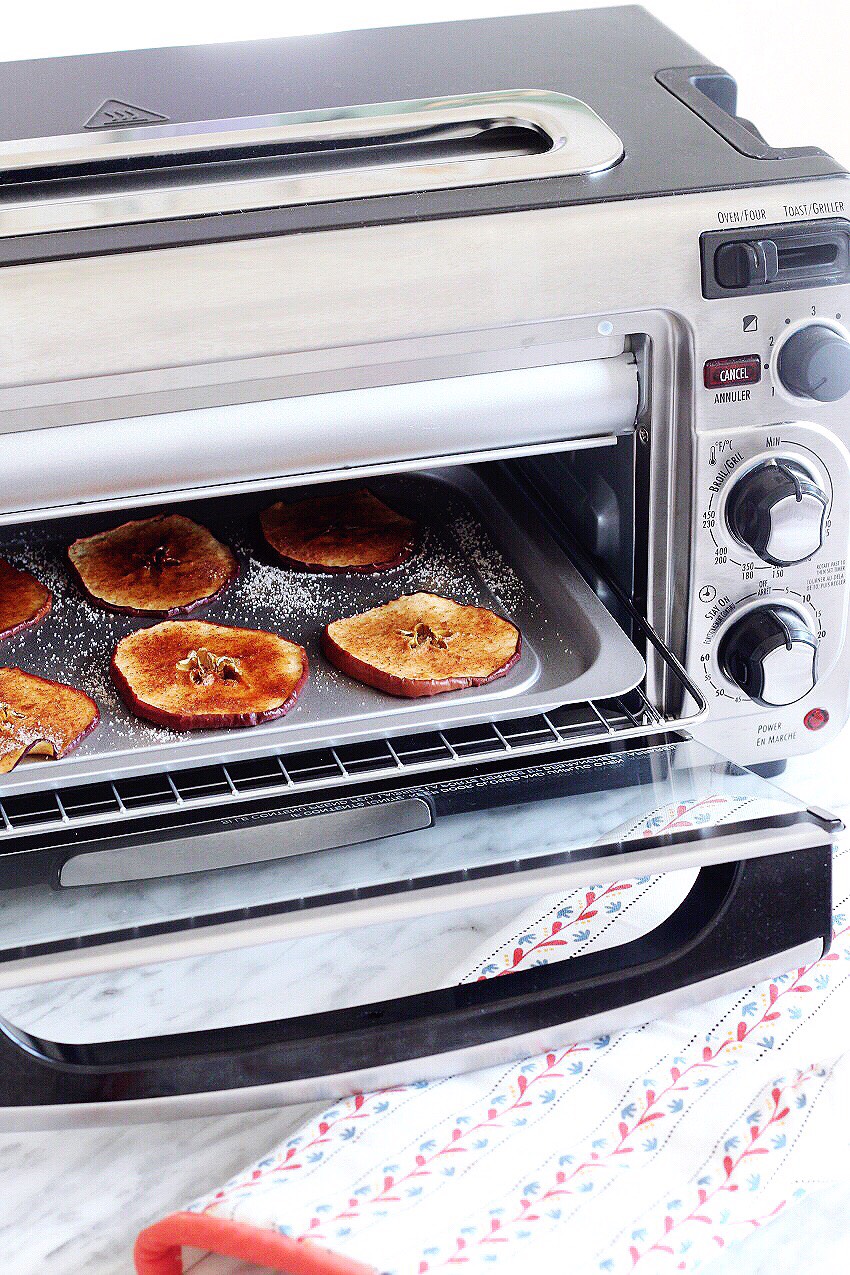 For example, I whipped up these tasty apple chips using my Hamilton Beach 2-in-1 Oven and Toaster!. Apples are a nutritious, affordable snack that almost everyone likes. The great part about them is their versatility. To switch things up from a regular cut up apple for snack time, I sliced them, removed the seeds, sprinkled them with a touch of cinnamon and sugar, and baked them for 1 hour at 225 F (see full steps below post).
related: Easy After-School Snacks Your Kids Will Love (And So Will You!)
When they were done, I let them cool and voila, done and done! The prep took me all of 10 minutes. I put the 60-minute timer on and walked away until it rung – and in the end, I have a delectable, healthy snack for myself and my family. Not only are they yummy on their own, but are delightful in smoothie bowls, or on top of oatmeal.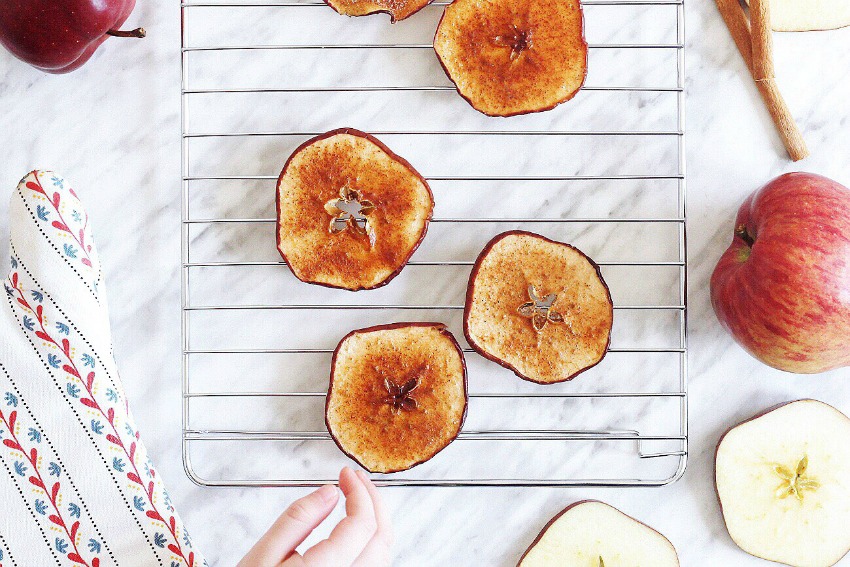 The pros of having a 2-in-1 Oven and Toaster are that you can make everyday basics, like bagels or toast, as well as fresh ideas – like homemade apple chips. Some other creative cooking ideas that come to mind for the toaster oven are breakfast muffins, snacking cake, sweet potato toast (bake in the oven, then toast!), and granola.
The other factor that comes into play is turning on a conventional oven for a small batch of food just doesn't make sense! It uses more energy and takes much longer to heat up, versus the toaster oven. I love that you can just make a half dozen muffins in the evening before bed and have them ready for breakfast the next morning without using the conventional oven and with the auto shutoff timer, you can turn it on and walk away without forgetting about it being left on.
I know life is hectic, we're busier than ever, and preparing meals and snacks can sometimes feel like a never-ending task. However, I believe having the right kitchen appliances to facilitate you in your daily quest makes things easier (and more fun!). I'm pretty excited about all the possibilities of things I can cook up in my Hamilton Beach 2-in-1 Oven and Toaster, which I'll definitely be sharing with you here and on Instagram.
To learn more about the model I have, visit hamiltonbeach.ca. The Hamilton Beach 2-in-1 Oven and Toaster is available at Canadian Tire stores across Canada.
Print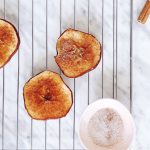 Toaster Oven Apple Chips
---
Description
A nutritious and easy snack to whip up, these apple chips with cinnamon sugar are a delightful and healthy treat.
---
1

large red delicious apple (or other sweet apple)

1/4 teaspoon

cinnamon

1 teaspoon

white sugar
---
Instructions
Position baking rack to lowest level.
Preheat toaster oven to 225 degrees F.
Wash apple, cut into slices, remove seeds.
(The thinner the slice, the crispier the chip. The thicker the slice, the chewier the chip.)
Dry the apple slices using a paper towel, to absorb some of the juice.
Arrange apple slices on a metal baking sheet.
Mix sugar and cinnamon together in a bowl and sprinkle over apple slices.
Bake in the preheated toaster oven for about an 1 hour.
Use oven mitts to remove the baking sheet and transfer the apple chips to a wire rack until cooled.
Notes
Makes about 6 slices, with one large apple.
Twice baked: for even crispier chips, you can turn the apples over half way, or bake them an hour and then flip them and bake them for another 30 minutes. Different apple varieties will bake differently, producing softer or crispier baked apples. I love them whether they're chewy or crispy!
You can make these without the cinnamon sugar, they're just as tasty.
Latest posts by Emily Smith
(see all)