5 Simple & Healthy Banana Recipes That Taste Delish!
This is a real conversation from three years ago that I wrote down to remember:
My husband, David, to my son: Aiden, would you like a banana?
Aiden: NANA!!! Where's NANA??
David: Oh, no Honey – do you want a banana?
Aiden: Nana has a banana for me?
David: Honey, just a banana.
Aiden: No, no, no. I want my Nana…
…and a banana.
My son has always been crazy for his Nana, and bananas. Of course, my daughter loves her Nana too, but she doesn't love bananas (on their own) as much. She prefers banana recipes, like the ones I've rounded up for you today. These are all recipes I've shared here on The Best of this Life before, but I thought it would be pretty convenient for you (and I) if I made a quick list of some of our favourites. If you're new to the The Best of this Life, you'll quickly see, we're all a bunch of monkeys around here. No, seriously! We're just bananas for bananas.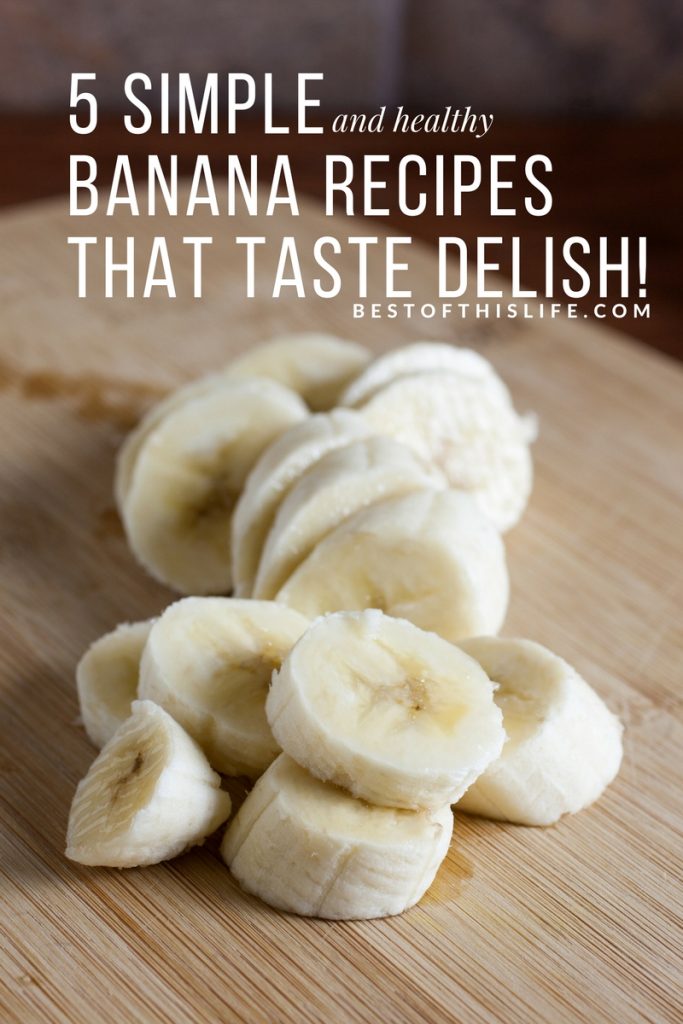 Every time we go grocery shopping, bananas are on the list. We buy fresh ones of course, but I always look for them on the "reduced" rack. Hello, a huge bag of bananas for a buck? You can't beat that! I can make so many smoothies and baked goods with that one bag of clearance bananas. It's seriously gold, you guys. Here I am going on and on about bananas and I haven't even asked you how you feel about 'em? I'm really hoping you love bananas (or at least your family does?) as much as we do, but if you don't, now is probably a good time to click here to take a look at my recipe index and find something that you do like!
For the rest of you, the banana aficianados, these are for you….
5 Simple & Healthy Banana Recipes That Taste Delish!
Morning, noon, or night – these easy banana muffins make the perfect snack for kiddos and grown ups alike. They're super quick to whip up, are great for tossing in a ziplock bag to send along to school or for carrying in your purse for a snack on-the-go.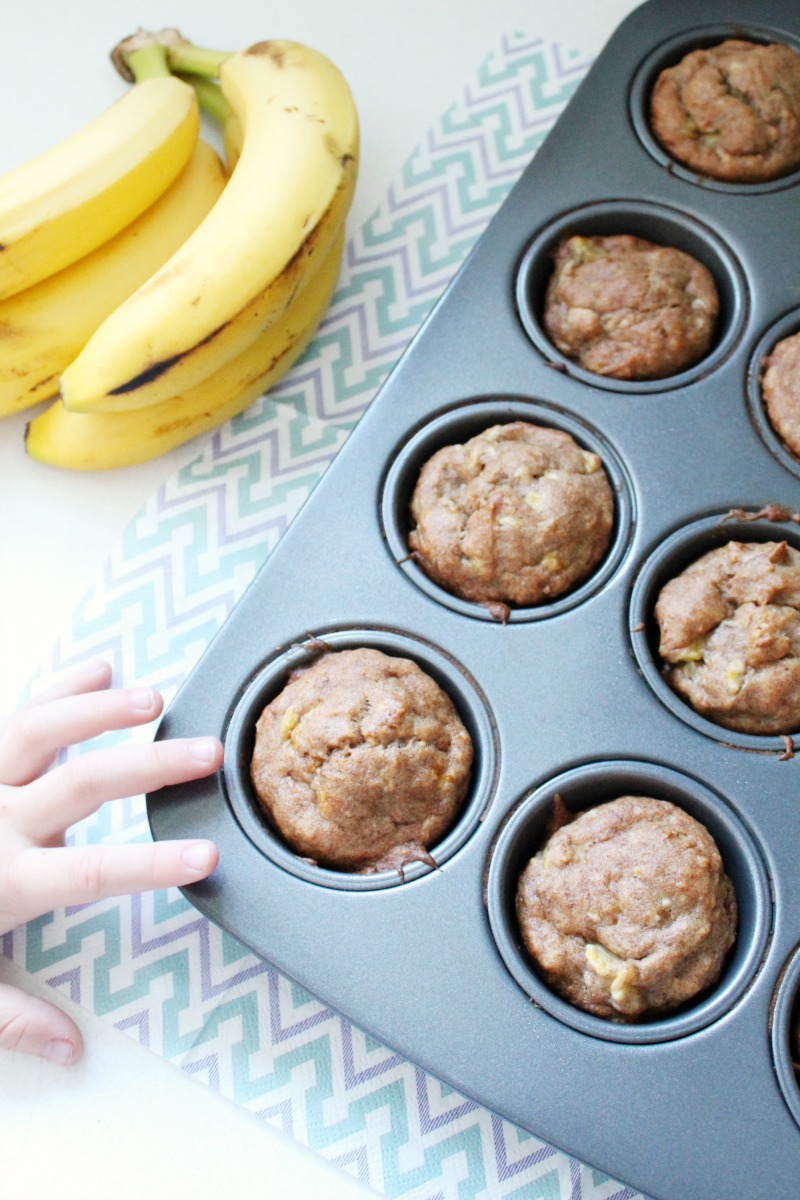 The name says it all. This cake has "snack" written all over it! Turn those browning bananas into something sweet and delicious.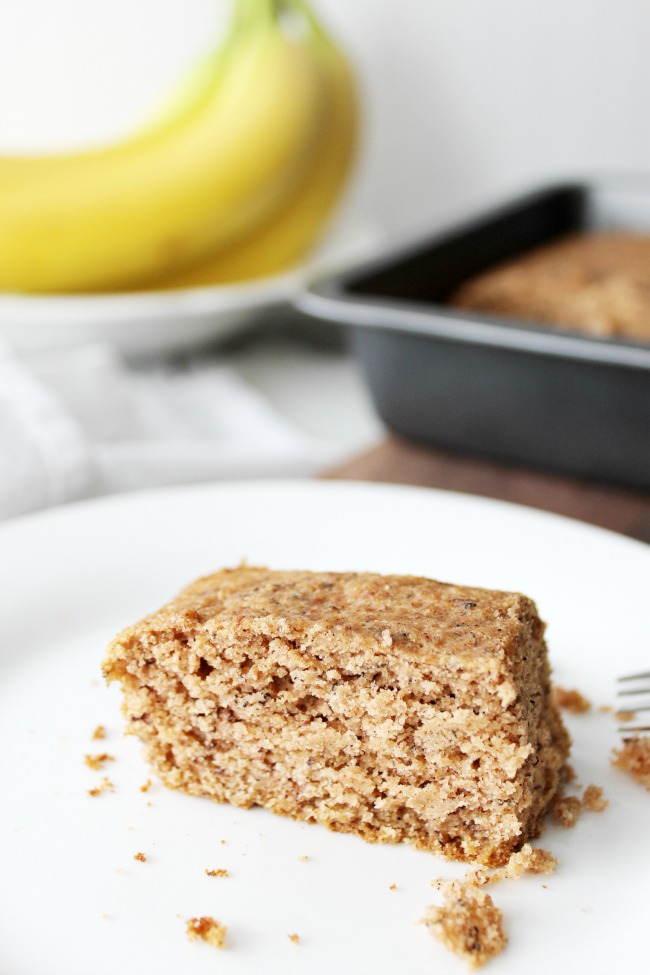 This recipe requires you to soak cashews over night (which makes them the ideal texture for this creamy filling) – but other than that, it's simple and quick to make. And let's face it, it's not that difficult to toss nuts in a bowl with water and let them hang out while you sleep, right? 😉 This luxurious pie pairs well with an iced chai tea or a cold glass of coconut milk. It's darn delicious y'all!
When I say easy, I mean it. I'm up front, you guys! I'll let you know if something is actually tricky and lengthy, promise. You'll need a food processor or high powered blender for this recipe and a few ingredients: 2 large bananas, sliced and frozen, 1/2 cup of almond milk (or soymilk, coconut milk, cow's milk) and optional add-ins: 1/2 teaspoon pure vanilla, 1 tsp almond butter, 2 spoonfuls of mini chocolate chips, 2 spoonfuls of peanuts (or any other fruit or addition you like). FYI, this nice cream is delicious. I mean it.
This smoothie is actually part of my 3 Day Jump Start Smoothie Detox Plan and I call it the "I'm Going Bananas Smoothie" – because usually, when you get to day three of a detox, you really do start to go bananas, and this smoothie hits the spot. It's filling and slightly sweet, curbing those sugar cravings. Whether you're detoxing or not, this creamy and satisfying smoothie is one you're going to want to try!
BONUS: Have you been freezing your bananas all wrong? Don't worry, I've got you. Step by step for frozen bananas that taste amazing in smoothies, nice cream and thawed out for baking.
Thank you so much for reading today. Do you know someone who LOVES bananas? Please send this article their way, you might just make their day! And to keep up with all of our new posts, be sure to FOLLOW The Best of this Life on Facebook and join the conversation!
Latest posts by Emily Smith
(see all)