A Heavenly Strawberry Mousse For Valentine's Day
Who is ready for a holiday? If you're feeling anything like our family we needed a holiday last week! Getting through the first month and a half of the new year can be a tough battle. Especially here in Ottawa, where it gets really cold and quite overcast during this stretch.
But, it's almost spring and Valentine's Day is just around the corner.
Contrary to popular belief this holiday wasn't created by the greeting card industry but has been celebrated to honour affection in one way or another since antiquity.
you might also enjoy this recipe: Heart Shaped Calzones for Valentine's Day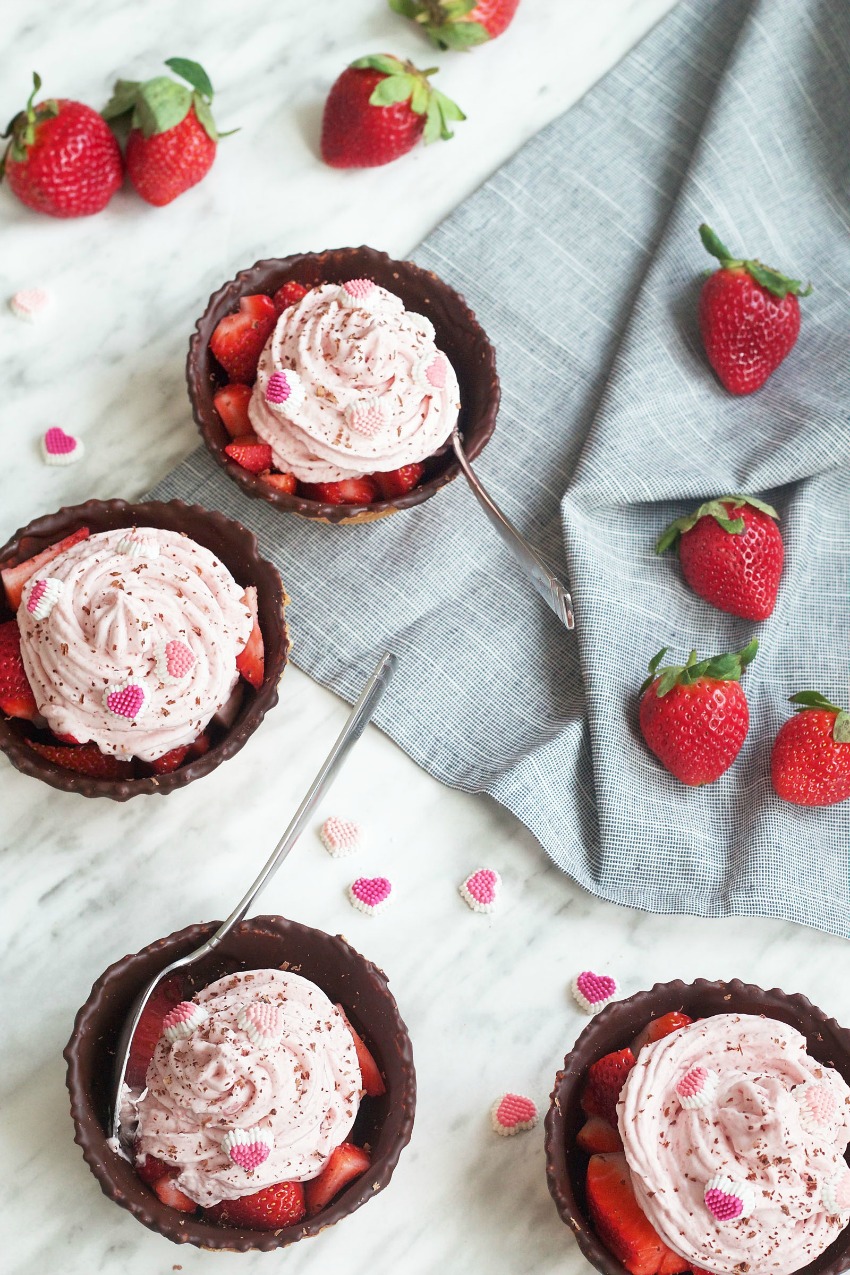 A homemade treat is always appreciated
Having a holiday that honours friendship, family and love can take many forms. While cards, candy, and flowers are all lovely, diverging from the them can be fun too.
Sometimes watching a romantic movie is just as sweet or cooking a delicious homemade meal (or dessert!).
Whether you're celebrating affection for yourself, your friends, your family, your partner or all of the above, taking a day to celebrate love is a holiday I can certainly get behind.
In my home, Valentine's day is usually celebrated together as a family with a special homemade dinner followed by a scrumptious desserts and treats for all.
you might also enjoy this recipe: Chocolate Covered Peanut Butter Truffles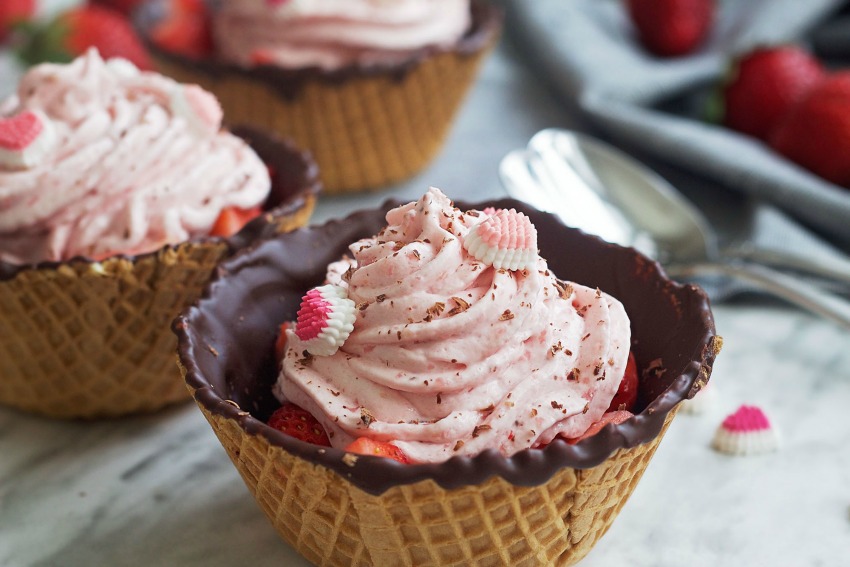 Decadent, luxurious flavour in every bite!
To prepare for the special day ahead, I have been practicing a few delectable desserts and meals to spoil my husband and kids with. I'm super excited over this luxurious strawberry mousse – it's rich, creamy, and has the gorgeous flavour of fresh strawberries bursting with every bite.
Now I know chocolate is the big go-to for Valentines Day (and we will be having that too) but a beautiful bowl of pink strawberry mousse was surprisingly what I was gravitated to this year, something unexpected and certainly made with a whole lot of love.
Roses are red, violets are blue, flowers are nice, but strawberry mousse is too! 
I didn't however completely forgo chocolate and decided on presented the mousse over a bed of freshly cut strawberries in a chocolate covered waffle bowl. This is completely optional and you could opt for a small dessert bowl with chocolate shavings on top. I'll leave the creativity of presentation and serving this tasty strawberry mousse up to you!
Enjoy xx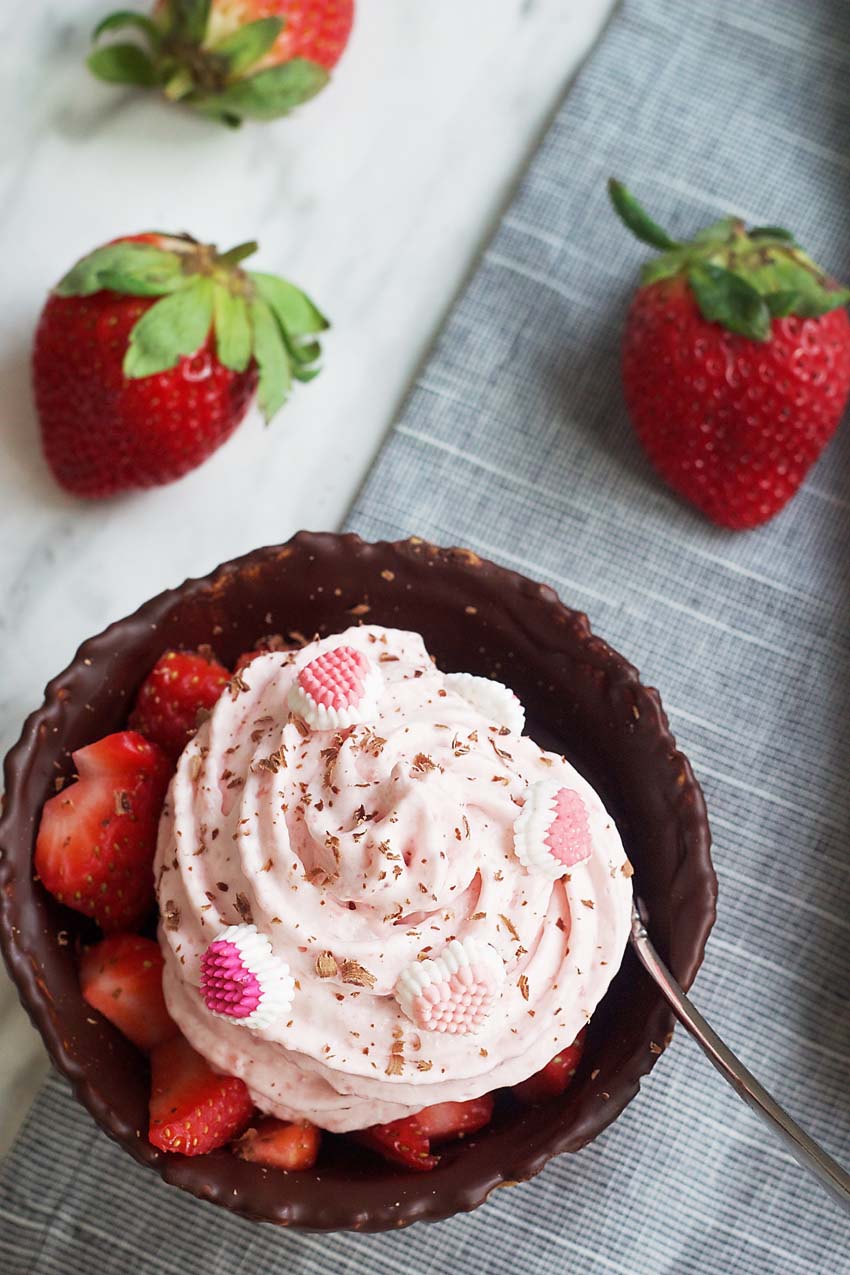 Print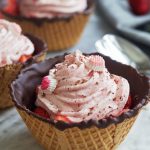 Strawberry Mousse
---
Description
A luxurious mousse bursting with strawberry flavour.
---
1 tablespoon

whipping cream

1/2 teaspoon

unflavoured gelatin

1 1/4 cup

sliced fresh strawberries

1/2 cup

icing sugar

1/2 cup

whipping cream

1 teaspoon

vanilla
Optional
More strawberries for serving

6

mini chocolate covered waffle bowls
---
Instructions
In a small bowl, sprinkle gelatin over 1 tablespoon whipping cream; set aside to soften gelatin.
In a food processor, place strawberries and icing sugar. Process until smooth. You may need to open the processor and use a rubber spatula to scrape the strawberries back into the mixture and process until well blended.
Pour mixture into a small saucepan, then add in the gelatin/whipping cream mixture. Stir occasionally over medium heat and watch for the mixture to simmer. When the gelatin melts into the mixture completely, remove from heat. Transfer the mixture into a bowl and allow to cool (not in the refrigerator) for at least 30 minutes.
In a mixing bowl, using an electric mixer, beat whipping cream on high speed until stiff peaks form. Then add in the strawberry mixture and beat on low speed or stir by hand until well blended.
Place mousse in pipping bag with a decorative tip. Pipe into serving bowls and serve – or put in the refrigerator for up to 2 hours before serving.
Notes
Serves 6-8 depending on how much mousse you use. I think it's perfect to serve over fresh strawberries to make a fuller looking dessert.
Don't forget to pin this delectable strawberry mousse recipe!

Latest posts by Emily Smith
(see all)